Distributor Henley Audio has announced that Danish audio maker Jamo and a Klipsch Group, Inc. brand, is updating the Concert 9 speaker range to suit a wider variety of Hi-Fi and home cinema applications.
Inspired by the updates introduced with the Jamo Studio 8 series during 2018, Concert 9 II has been created to be the perfect marriage of high-fidelity sonics and contemporary Danish design principles, all at an attractive price.
The Concert 9 II passive speaker line consists of two tower speakers (C 97 II and C 95 II), two monitors (C 93 II and C 91 II), a centre channel (C 9 CEN II) and a surround speaker (C9 SUR II). Boasting a variety of technical strengths, all speakers in the range feature a balanced, natural sound that's suited to 2.0, 2.1 or full home cinema listening environments.
The Concert 9 II range employs Hybrid Composition Conical Cones (HCCC) for its main drivers. The maker says these purpose-chosen woofers are capable of remaining clean and clear in their sonic presentation, even when being driven hard, thanks to their stiff-compliant-stiff (SCS) sandwich cone structure.
Here, the stiff layers ensure the driver remains fast and in control, while the compliant layer damps unwanted resonances. Similarly, the Long Displacement Surround (LDS) technology optimises the suspension system around the woofers for improved transient response, reduced distortion and minimised breakup.
Jamo says the end result is a clean and clear mid- and low-end that transitions effortlessly with the tweeter's performance.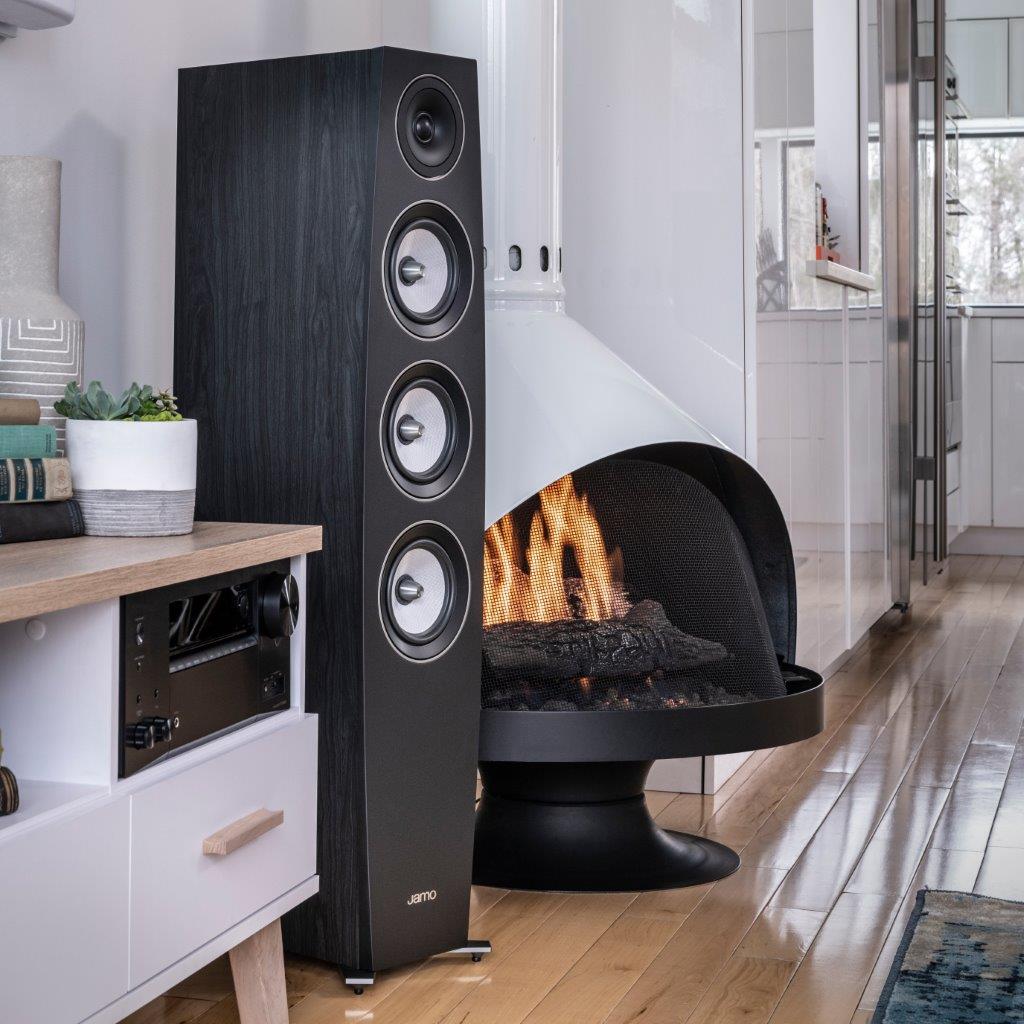 Silky sound
The Concert 9 II's silk dome tweeter also features on every model in the range. With a custom designed diaphragm, featuring a larger surround for extended frequency response, and an under-hung voice coil centred in ferromagnetic fluid for minimal distortion, the sonic delivery has been designed to be clean, clear and crisp without hard edges.
Mounted using Jamo's Anti-Diffraction WaveGuide (ADW) technology guarantees immersive and impactful listening, even when you're sat out of the sweet spot.
Concert 9 II also boasts updated aesthetics with natural textiles for a homely, modern speaker enclosure.
Available in furniture-grade, scratch-resistant Black Ash and a limited-edition White Oak finish, each Concert 9 II speaker is designed to blend into modern environments.
Featuring new, premium magnetic grilles (charcoal grey on the Black Ash finish and heather grey on the White Oak), satin painted MDF baffles with a neat rounded finish, polished chrome logos and cast metal stabilizer feet on the floorstanders, the Concert 9 II range has been created to be aesthetically elegant while delivering strong acoustics.
More details and pricing available direct from Henley Audio.