Monitor Audio has released the Anthra Subwoofer Series, a standalone three-model range that majors on musicality and depth.
Described as a new compact, high-fidelity subwoofers featuring powerful amplification, driving the latest metal-driver technology with intuitive app functionality for advanced DSP and setup configuration.
Monitor Audio is proud to announce the launch of the new Anthra Subwoofer Series. This new range introduces a trio of high-performance powered subwoofers into the Monitor Audio portfolio. Each of the three models has been engineered with a focus on musicality and control, and through the expert application of sound acoustic knowledge and solid design principles, the Anthra Subwoofer Series delivers devastatingly deep bass with musicality and agility, says the maker.
Strong build quality, intuitive controls and a user-friendly app round out what is presented as an exceptional package. Plus, the enhanced flexibility that a standalone series offers, enables a user to select a subwoofer independent of a speaker series, with their choice instead based on price, performance and their system's requirements.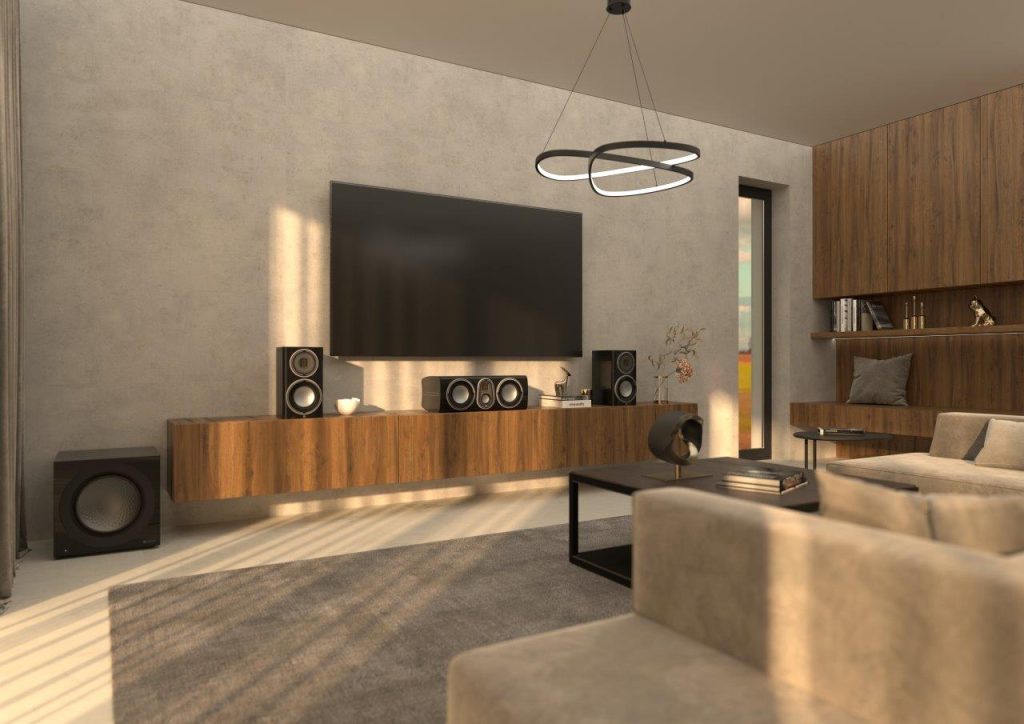 Acoustic Performance
Through the application of smart acoustic design and core Monitor Audio technologies, the Anthra Subwoofer Series can deliver the kind of deep, highly accurate bass output capable of dramatically enhancing your enjoyment of both movies and music, say the sub's creator.
C-CAM
Strong and lightweight, the extremely rigid C-CAM cones have a much higher resistance to bending stress and therefore exhibit much greater fidelity over their entire operating range for a cleaner, clearer more precise lifelike sound presentation.
RST II
Rigid Surface Technology II (RST II), the first time it has been applied to a Monitor Audio subwoofer cone, significantly increases cone rigidity, allowing the radiating surfaces to resist the mechanical bending forces that can twist the shape of conventional driver cones, which can distort sound.
Class-D amplifiers
Behind the RST II C-CAM high-excursion driver lies a formidable amplifier capable of impressive power. With Class-D 425, 900 and a massive 1,400 Watts RMS at continuous levels with peak demand reaching 500, 1700 and 2500 Watts, each amplifier ensures that the drivers are working to their optimum performance levels, no matter what the volume, allowing for an extremely accurate and clean dynamic range and a musical performance.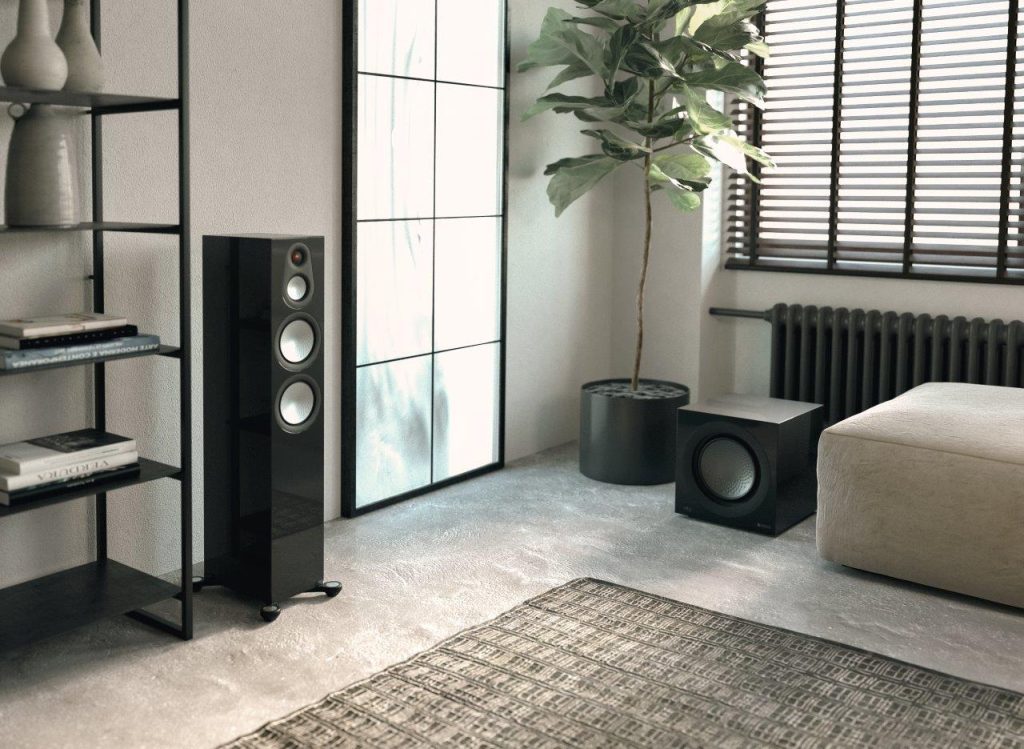 Cabinet strength
Anthra subwoofers utilise an extremely thick MDF cabinet, boasting up to 1.4in thick (36mm) external walls and 3/4in (19mm) thick internal walls with carefully configured bracing that has been acoustically optimised for extreme strength.
User-friendly features
The Antra Subwoofer Series' incredible acoustic prowess is complemented with a smart selection of user-friendly features, that make initial set-up and system matching a breeze.
Connectivity
The rear panel on all Anthra subwoofers provides a comprehensive variety of connectivity options, such as RCA with LFE, to allow daisy chaining up to four Anthra subwoofers. XLR inputs for professional installation options are also included, and they too also allow daisy chaining up to four Anthra subwoofers. Further to these flexible inputs, there is a full-colour display on the rear panel with rotatory dial, to access the setup selection menu, which offers consumers the ability to not only undertake a quick setup procedure, but also to connect and integrate any Anthra subwoofer into a wider home cinema system with consummate ease.
MaestroUnite App
Via the in-house-designed MaestroUnite setup app, users can optimally configure any Anthra subwoofer to their individual tastes and system requirements. And if multiple subwoofers are used within a single system, it allows the same settings to be delivered across them all simultaneously.
The Range
The Anthra Subwoofer Series comprises three stand-alone subs, capable of being used on their own or in groups, enabling users to fill even the largest spaces with deep, controlled bass.
The Anthra W15 is the largest subwoofer within the series, and it features a 15in (38cm) Rigid Surface Technology II (RST II) C-CAM high-excursion driver powered by a powerful Class-D 1,400 Watt amplifier. The Anthra W12 sees a 12in (30cm) driver powered by a Class D 900 Watt amplifier, while the smallest subwoofer in the series, the Anthra W10 sees 425 Watts driving a 10in (25cm) cone.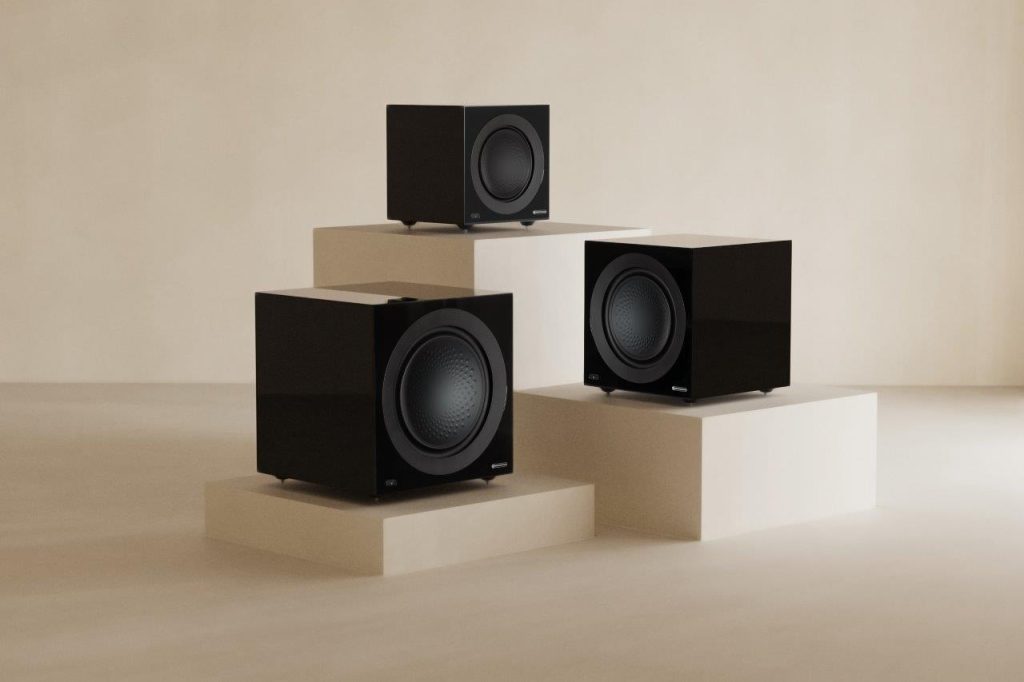 Transparent Design Philosophy
The all-new Anthra Subwoofer Series is built upon an R&D philosophy of maintaining a balance between design and technology. One is never allowed to overpower the other and both play a vital role in delivering on our promise of musical neutrality and acoustic transparency.
The speakers are designed to sit comfortably within their environment, designed to be a beautiful statement, but one where perfectly balanced design neutrality means they will blend in for a lifetime of use.
Monitor Audio says every product is the result of intense collaboration, drawing on decades of experience within the design team and ensuring that all the elements of performance, technology and design work in harmony. The Anthra Subwoofer Series is the physical manifestation of this approach.
Anthra subwoofers are available in Satin White and High Gloss Black finishes and will be available from in August 2023.
Anthra W10 – MSRP: £1,650 / €2,150 / $2,350 (USD) per piece
Anthra W12 – MSRP: £1,900 / €2,450 / $2,700 (USD) per piece
Anthra W15 – MSRP: £2,500 / €3,200 / $3,500 (USD) per piece