High-quality home cinematic experiences with two new THX Certified architectural speakers from KEF.
Create the ultimate home cinema experience with the latest additions to KEF's architectural speaker range; the first THX Certified Dominus speaker from KEF, the Ci5160REFM-THX, as well as the Ci3160REFM-THXwhich is THX Certified Ultra. These in-wall Ci-Reference speakers create a new level of entertainment in which movie lovers are enveloped in life-like sound and transported to a deeper, more thrilling audio experience, says the maker.
Providing a new level of entertainment when watching movies, playing games and listening to music, KEF says these new Ci-Reference speakers push the limits of technology and add to KEF's Extreme Home Theatre architectural speaker collection. Bringing together two companies, KEF and the audio-video certification and technology company, THX Ltd., both recognised for helping to set industry standards of soundscapes, whether these architectural speakers are set up in home theatres or living rooms, the maker says listeners will hear all the details exactly as they would in real life –as the creators intended the sound to be enjoyed.
The new Ci-Reference speakers have been upgraded with the latest technological advances, including the revolutionary 12th generation Uni-Q driver array and KEF's pioneering Metamaterial Absorption Technology (MAT). The bass drivers have been optimised for in-wall use, and the aluminium baffle eliminates vibration. Every element has been specially designed for these models to deliver realistic and immersive sound with strong dynamics for the most discerning music and movie adorers.
KEF's first THX Certified Dominus speaker
KEF's first in-wall speaker to be THX Certified Dominus – THX performance class for the largest private cinema spaces – and among the very few that can achieve this ultimate standard worldwide. The Ci5160REFM-THX delivers the might and magic of pure, accurate sound in the comfort of one's own home, says KEF. Wielding great audio power, THX Certified Dominus KEF speakers are optimal for rooms up to 6,500 ft with a viewing distance of up to 20 feet.
THX Certified Ultra Speaker with MAT
The KEF engineering team in Maidstone, UK, has once again pushed the limits of technology to deliver a world-class speaker that meets not only the standards set by The Reference Series, but also meets another stringent high-fidelity standard in the THX performance classes – THX Certified Ultra. Similar to THX Certified Dominus, being THX Certified Ultra means the Ci3160REFM-THX has undergone hundreds of performance and quality assurance tests, from output levels, frequency response, listening window, distortion, and bass management to ensure it is capable of recreating high-impact cinema sound and best-in-class audio fidelity. THX Certified Ultra products bring the cinematic experience to large home theatres, up to 3,000 cubic feet in size, with a viewing distance of ~12 feet from the screen.
Hide Your Speakers, Not Your Sound
'Hide your speakers, not your sound' is the concept behind every KEF architectural speaker. Like all other models in the category, these two new additions are designed to be discreet in appearance and engineered with best-in-class acoustic performance, delivering an immersive soundscape while the speakers blend into the interior. Ci5160REFM-THX and Ci3160REFM-THX are available in Aluminium Black/Grey finish and come with a paintable magnetic metal grille that fits effortlessly into any décor scheme.
The combination of innovative engineering and acoustic design ensures KEF architectural speakers offer the same compelling performance as its Hi-Fi speakers underlines the maker.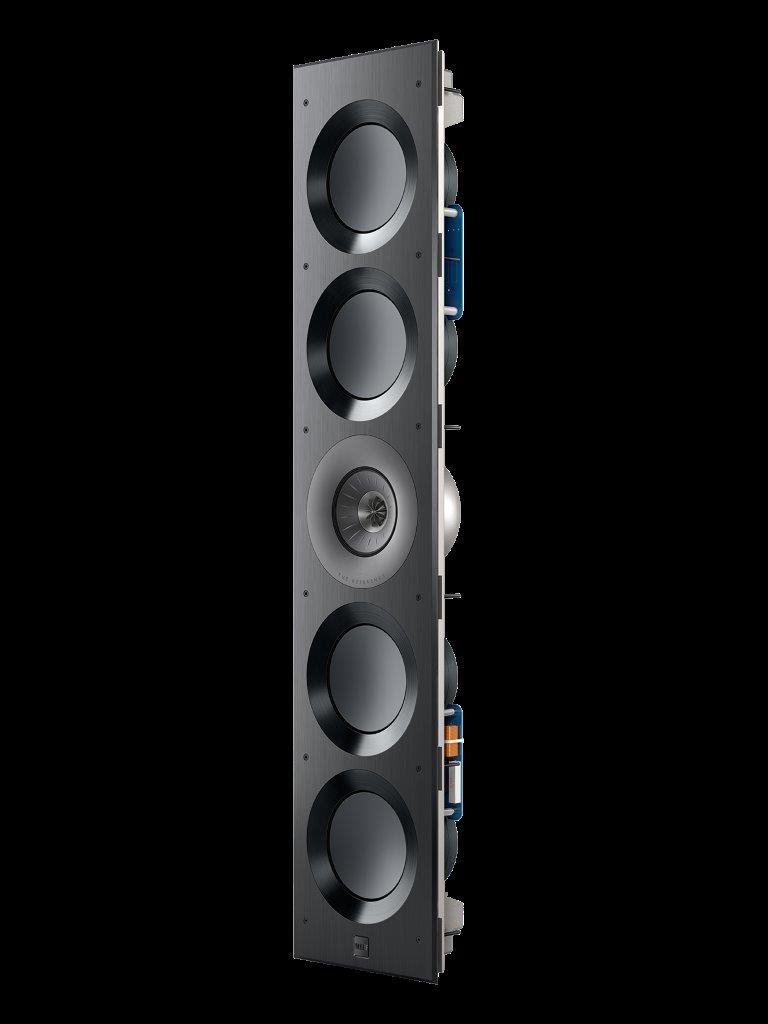 Ci5160REFM-THX key features:
• KEF's first THX Certified Dominus speaker – the powerful THX performance class for the largest private cinema spaces
• Metamaterial Absorption Technology eliminates 99% of high-frequency distortion for pure, natural sound
• Bespoke 12th generation Uni-Q with MAT driver array for exceptional acoustic accuracy
• Four 160mm (6.5in.) bass drivers optimised for in-wall use
• 11mm thick precision-machined aluminium baffle designed to eliminate vibration and allows the drivers to perform at their best
• Discreet design with best-in-class performance
• Available in Aluminium Black/Grey finish
• Paintable magnetic metal grille that fits effortlessly into the interior
• Optional black cloth grille available as separate item
Ci3160REFM-THX key features:
• THX Certified Ultra for high-impact cinema sound
• Metamaterial Absorption Technology eliminates 99% of high-frequency distortion for pure, natural sound
• Bespoke 12th generation Uni-Q with MAT driver array for exceptional acoustic accuracy
• Two 160mm (6.5in.) bass drivers optimised for in-wall use
• Discreet design with best-in-class performance
• Available in Aluminium Black/Grey finish
• Paintable magnetic metal grille that fits effortlessly into the interior
• Optional black cloth grille available as separate item
Price
Ci5160REFM-THX: £9,500 per piece
Ci3160REFM-THX: £8,000 per piece