Five years since the introduction of ULTIMA, Chord Electronics' most accomplished amplifier topology in its history, the Kent company has trickled the technology down into an integrated amplifier for the first time, which the company says sets new performance standards for single-box amplification, says the maker.
The ULTIMA INTEGRATED is a 125W amplifier designed by Chord Electronics' founder, owner and chief engineer, John Franks. With the latest dual-feed-forward error-correction topology, Chord Electronics' legendary proprietary ultra-high-frequency power supplies and the company's unmistakable industrial aesthetic, the ULTIMA INTEGRATED is making its world debut at High End, Munich, 18 May (Chord Electronics' room A 3.1, C122).
John's advanced error-correction topology, which monitors and immediately corrects signals before the output stage, is key to the four-input ULTIMA INTEGRATED, and offers astonishing signal accuracy for unrivalled fidelity from a one-box integrated device, says the products creator.
The ULTIMA INTEGRATED also takes advantage of the latest developments in advanced low-distortion power supplies devices offering exceptionally low noise and outstanding amplifier operation.
All four of the ULTIMA INTEGRATED's inputs, one fully balanced and three unbalanced, enjoy individual buffering and are selectively filtered against potential ingress from radio frequency interference; selection switching is via microprocessor-controlled sealed relays. In addition, the amplifier benefits from an AV bypass input, plus a balanced preamp output for connection to additional power amplifiers.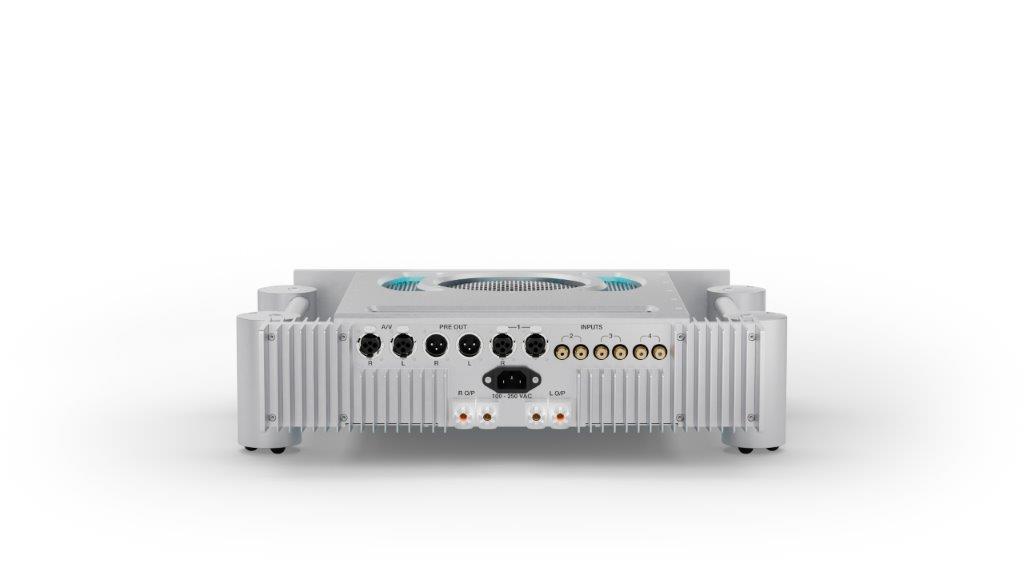 The ULTIMA INTEGRATED is the first new Chord Electronics integrated amplifier for seven years and is the only full-width model in the company's range (Anni, from the Qutest range, is the company's only other integrated amplifier).
The ULTIMA INTEGRATED follows a line of advanced full-width ULTIMA-technology power amplifiers, including the original flagship ULTIMA mono power amplifier (780 W), the successive ULTIMA 2 (750 W) and 3 (480 W) mono power amplifiers, and the ULTIMA 5 (350 W) and 6 (180 W) stereo power amplifiers.
ULTIMA INTEGRATED industrial design aesthetic
The new ULTIMA INTEGRATED shares the same all-new 28-mm-thick front panel seen in John Franks' recently introduced ULTIMA PRE 3 preamp. The new frontage offers a perfectly symmetrical aesthetic, centred on a spherical power on/off control which uses the company's familiar (dimmable) polychromatic lighting, giving a clear and simple indication of the amplifier's playing status. The power sphere is flanked by a newly designed combined volume and input selector, plus a combined balance and AV bypass control.
All of the metalwork is precision-machined from solid aircraft-grade aluminium, including Chord Electronics' iconic Integra Legs. The upper panel (lid) features Chord Electronics' established vented design, with a newly redesigned logo-engraved dimmable LED light ring, giving distinctive visual appeal day or night.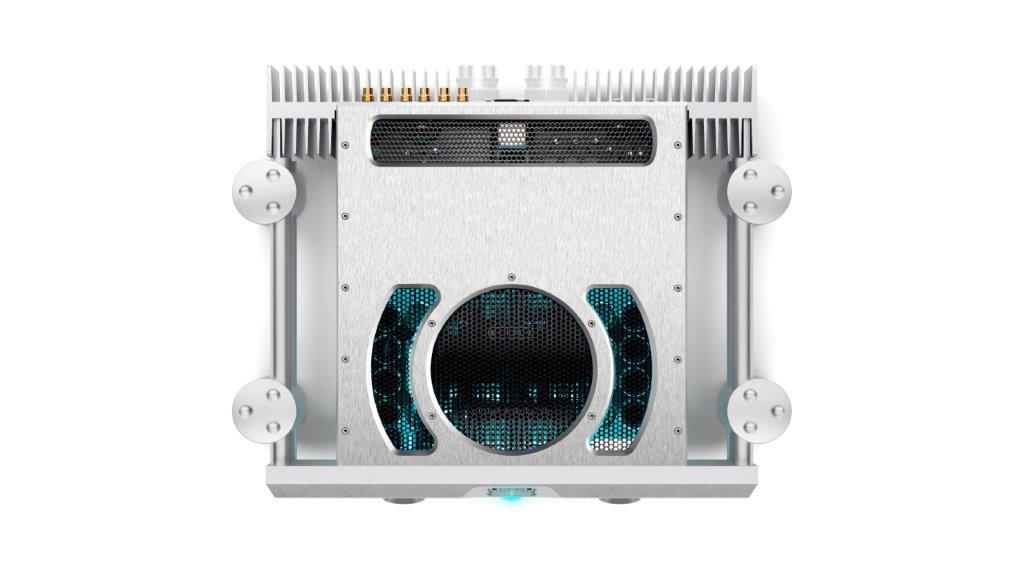 Like all of Chord Electronics' full-size and Reference range amplifiers, the product is available in a choice of Jett Black or Argent Silver. The amplifier can also be specified with a highly polished black acrylic side block option at no additional cost.
Founder, owner and chief designer, John, says, "The new ULTIMA INTEGRATED offers levels of performance not yet seen in any integrated amplifier. It features no fewer than four separate high-power line input phase-corrected power supplies working in harmony to give this new amplifier the high energy power levels and fast transient power that Chord Electronics' products are known for."
In addition to its four inputs, AV bypass and balanced outputs, the amplifier's rear panel also contains high-quality loudspeaker terminals, a 12 V trigger and a 10 A C-19-type IEC.
The ULTIMA INTEGRATED is available to pre-order from Chord Electronics' ULTIMA dealers now (expected September) £8,500.
Technical specifications
Output power: 125 W into 8 Ω
Frequency response: 10 Hz-200 kHz +/- 3 dB
Input impedance: 100 kΩ
Input maximum voltage: 3 V RMS (single-ended)
Output maximum voltage: 35 V RMS
Channel separation: 100 dB
Operation voltage: 80-250 V AC auto-switching
Power consumption: 200 W