One company, two systems: Martin Dew, formerly of Lucasfilm THX, compares two extreme performance home cinema setups from the same company.
Comparing Steinway to Lyngdorf is a bit like comparing Emirates Palace, Abu Dhabi to The Plaza, New York. Or the Singapore Airlines onboard First Class Suite to Etihad First Apartment. Or even the McLaren 720S to the Ferrari 488 Pista. You get the drift. So, after writing a review of the Lyngdorf MP-40 processor for US-based Home Theater Forum last summer, the exclusive UK distributor of Steinway Lyngdorf, Gecko Home Cinema, asked if I would be interested to take on what we might call a 'best vs. best' challenge.
But the remit here will not necessarily be to identify the finest home cinema, as both the Steinway and Lyngdorf systems in this face-off have impeccable performance and, importantly, are made by the same company. Rather, the goal is to pinpoint what audio characteristics, if any, justify a customer's potential 100% hike in budget from one custom-installed user experience to another.
The playing field here across two demo rooms is far from level. A full Steinway system (as found in the second of two demo rooms at the distributor's HQ) employs an 'integrated' approach. A P300 2.1 multi-channel processor, for example, must combine with its own-brand amplifiers and speakers to pass a 100% digital signal down through the chain to produce a sound. Steinway's team refer to the power stage as true digital amplification (TDA), as it rejects any "sound-deteriorating analog conversions". Peter Lyngdorf adopted these EQUIBIT amplifiers to convert PCM (Pulse Code Modulation) signals to a PWM (Pulse Width Modulation) signals, effectively making the amps themselves digital-to-analog converters. The 'true digital' nature of the amplifiers, combined with the vibration-free aluminum billets housing the speaker drivers, contribute to an imperceptibly silent noise floor.
Steinway's deceptively tiny and décor-friendly Model S-15 loudspeakers (with 92 dB efficiency) deploy dipole AER tweeters focusing audio directly to the listening position, with perfect synchronized timing. Four Steinway boundary woofers also boast faultless timing from both direct and reflected sound, with all seats in the house guaranteed the same experience. The boundary woofers receive a low-pass filtered signal at 400Hz (even though the drivers themselves are linear up to 1.5 kHz), lending further punch and credibility to gunshots and whacking snare drums. Despite the rollcall of formidable technologies that the Steinway system exhibits, the salient point here is that none of the components can operate in isolation.
(It is worth adding that the P300 has optional AES3 and AES67 boards for integration with DCI-compliant servers. Stacking several of these processors allows up to 64 discrete channels or immersive audio 'nodes', as found in commercial cinemas.)
Lyngdorf, in contrast to the Steinway integrated approach, designs its components to be mixed and matched with others, if desired, and is therefore technically a separates brand. The Lyngdorf 'SDA' moniker (as in the SDA-2400) means 'semi digital amplifier' i.e., driven by an analogue input source and outputting an analogue signal. Unlike Steinway's true digital amplifiers, the SDA models are what most manufacturers would refer to as conventional digital amplifiers. The Lyngdorf rack, headed up by a MP-60 processor, powers a full array of 300 series M&K monitors and an imposing double stack of three X12 subs either side of the screen. The two side-by-side evaluation rooms at the distributor's head office near Newbury represent substantially different volumes (detailed below).
Lyngdorf Demo room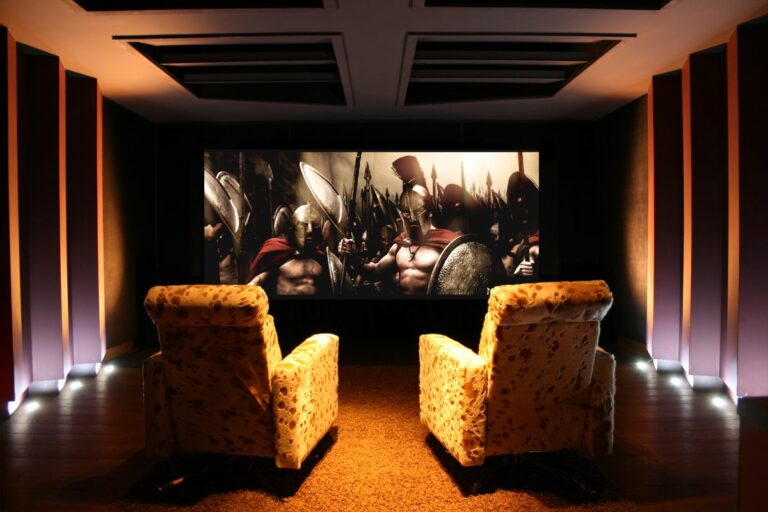 Treat me gently
One of the most critical points to explain here is that neither the Steinway nor Lyngdorf demo rooms use acoustical treatments of any kind. Acoustically transparent flat black gauze material drapes the steel and concrete surrounding shells and only dark grey carpets run wall-to-wall in both environments. Due to the extraordinary efficacy of Steinway Lyngdorf's RoomPerfect in-room calibration system, the distributor tore out all traps, diffusers and absorbers after installing both sets of hardware from the Danish brand(s). SL founder Peter Lyngdorf himself insists that achieving a perfect measurement curve in a living room is quite different from doing so in an anechoic chamber. His words might sound counter-intuitive, but with 80% of audio energy in a given room caused by reflected sound – and with the possible exception of a "small amount" of behind-audience diffusion – Mr Lyngdorf says,"Remove everything."
These room treatment-rejecting characteristics should play a key role in any planning processes for those installers building out high-end cinemas for their clients.
Changing rooms
Below are the full equipment lists for each of the two rooms being compared. The distributor refers to the Lyngdorf space (with M&K speakers) as the Rives Room, named after the architect who originally drew the plans, and the Steinway space as the Model S Room. The rear wall of the latter is open-backed but still has a pair of shelf-mounted signature Model S dipolar monitors located behind the audience.
Lyngdorf MP-60 Processor and stack of SDA-2400 power amplifiers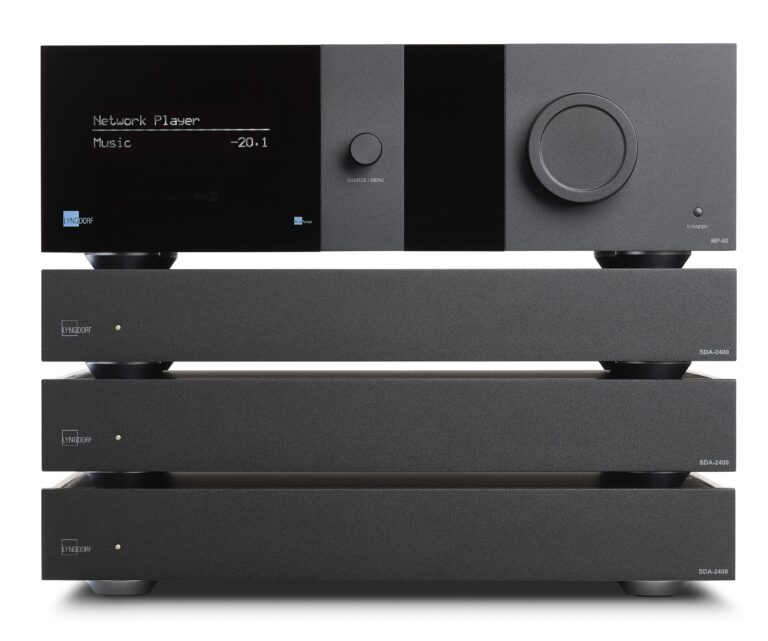 The Rives Room
9.4.4 Dolby Atmos configuration with Lyngdorf electronics and M&K 300 Series Speakers
Volume (ft): 8.1 (H) x 16.7 (W) x 20.8 (L) = 2,800 cu ft
1 x Lyngdorf MP-60 2.1 AV Processor
7 x Lyngdorf SDA-2400 Power Amplifier
3 x M&K IW300 In-wall Loudspeakers (LCR)
3 x M&K IW300 In-wall Front Width Loudspeakers
4 x M&K 300T Tripolar On-wall Loudspeakers
4 x M&K IW300 In-ceiling Loudspeakers
6 x M&K X12 Subwoofers   
Steinway & Sons P300 2.1 Processor and A2 True Digital Amplifier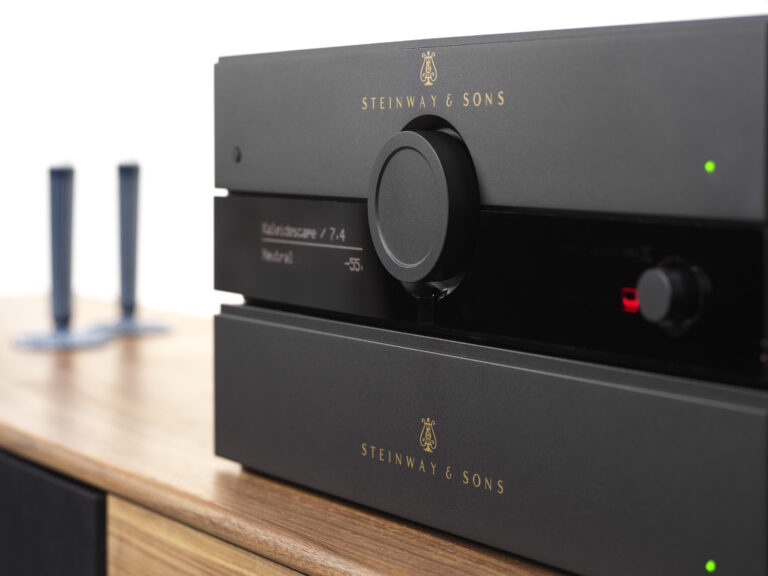 The Model S Room
7.4.4 Dolby Atmos configuration with Steinway Lyngdorf Model S Speaker Array
Volume (ft): 7.9 (H) x 14.4 (W) x 18.6 (L) = 2,116 cu ft
1 x Steinway P300 2.1 Processor
4 x Steinway A2 True Digital Amplifiers
3 x Steinway Model S-15 Dipolar Loudspeakers (LCR)
4 x Steinway Model S-15 Dipolar Loudspeakers (Side and Rear)
4 x Steinway Model IC16 Directional Atmos Loudspeakers
4 x Steinway LSR212 Boundary Woofers
4 x Steinway IC Back Box and Grilles
2 x Steinway LSR212 Stack Inserts
Comparing notes
As with some other A/B comparison attempts, I stress that if a prosecutor made claims for scientific legitimacy here, they would be immediately thrown out of court. As mentioned, the two Steinway and Lyngdorf rooms are neither identical in volume, build, electronic architecture, or speaker layout. However, I could at least achieve some semblance of a controlled experiment by using the same content from identical Blu-ray decks, and listening at the same levels (11 dB below reference) for all sources. I also selected Steinway Lyngdorf's 'Neutral' voicing on both processors. So, I must rely on my ears to identify any performance differentials, if at all.
Kicking off with two-channel music selections, I ran "Fly on a Windshield" from Genesis's remastered double-CD The Lamb Lies Down on Broadway in the Lyngdorf room. The MP-60 interpreted the track's majestic arrangement with studio-like precision and offered up every instrument to the listener for renewed scrutiny. Thunderous rock without missing a trick. Transferring over to the Steinway, the performance was a twinge brighter, but with more refined low-end weight and a little more high-register detail shining through in Peter Gabriel's vocals. I detected similar vocal highlights from the Steinway on Radiohead's "Airbag" from OK Computer along with a more defined bass guitar line.
It wasn't until I spun up A. R. Rahman's beautifully recorded CD soundtrack for the movie Lagaan that things got a little more interesting. The Lyngdorf/M&K setup delivered a faultless, nuanced and multi-layered performance of the song "Mitwa", but playing the same piece in the Steinway room was something of an epiphany. Suddenly, rather than listening to an immaculate interpretation of recorded music from the Lyngdorf, the only way to describe the experience from the Steinway was that of a live performance taking place in front of me. It was as if I could point to the artists in their respective positions on the stage, even down to the specific height of the microphones. Strings were full and real and tangible, and the tabla drums utterly vivid. The Steinway also managed to transport a full symphony orchestra to the demo room for my recording of Vaughan Williams's The Lark Ascending.
Both systems were so competent with film soundtracks, it seems like a crime to invite criticism or differentiation. During the opening sequence of Mission: Impossible Rogue Nation (2015) the Lyngdorf/M&K system created a massive Dolby Atmos soundstage as the aircraft powers up and takes off with Cruise hanging precariously from the aft fuselage. The Steinway, while still replicating the scale of the scene, proved slightly more adept at picking out and earmarking surround effects, such as the clanking of steel restraint braces inside the aircraft just above and behind my head. I was aware of enhanced separation of dialogue, music and effects, and an even more studious ability to make all speakers in the room disappear. That same laser-precision placement of front and rear sound effects from the Steinway was also clear in the tsunami sequence of Aquaman (2018) where debris from the storm hurtles through the room above, below and to the sides of the listener. Likewise, raindrops dripping slowly down the windows of the Ford Explorer close to my immediate left and right in Jurassic Park (1993) was something I was unable to repeat with quite the same dexterity on the Lyngdorf.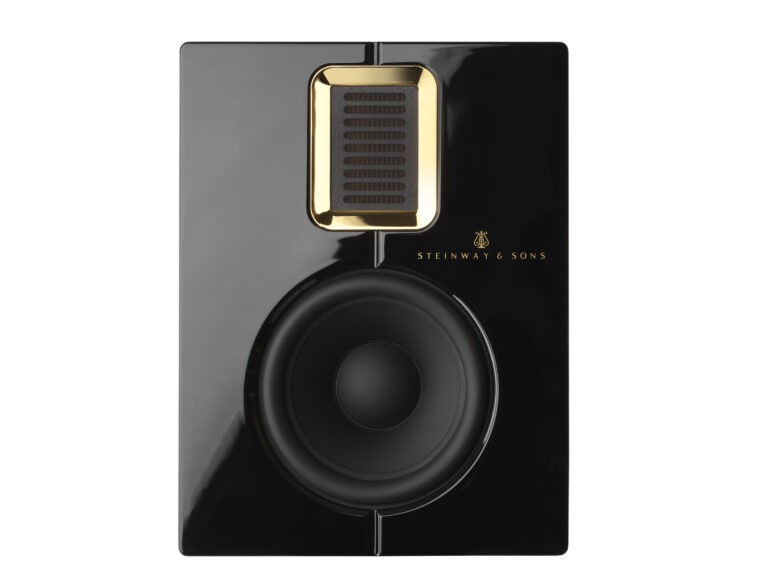 Piano forte
In terms of performance, you just get the feeling with the Steinway gear that there is nothing standing between you and the source…and I mean nothing. There is also something unquestionably alluring for a Steinway customer to have that name embossed on the same multi-stage gloss lacquer used for the company's legendary pianos. If those qualities give them a slight edge over Lyngdorf, then so be it, but both systems are rock solid and phenomenal in execution. Lyngdorf Audio is making some of the magic available to less well-healed clients in the form of the MP- processors and SDA- amps. If your customers plan to spend £10k on a projector, for example, and you can offer it as part of your product portfolio, then they should consider Lyngdorf for their electronics. Finally, I so appreciate what Steinway Lyngdorf is doing for the audio community. Rather than employ one single audio guru to develop the company's technologies, the SL team consists of some 60 engineers famously banging heads together until they attain what they consider to be perfection. As a self-confessed stickler for accuracy of sonic reproduction, their products have made me re-evaluate what it is I love about music and movies. And that's saying something.