EI presents an interview with Mike Blackman, ISE show chief, ahead of the ISE London Event this week.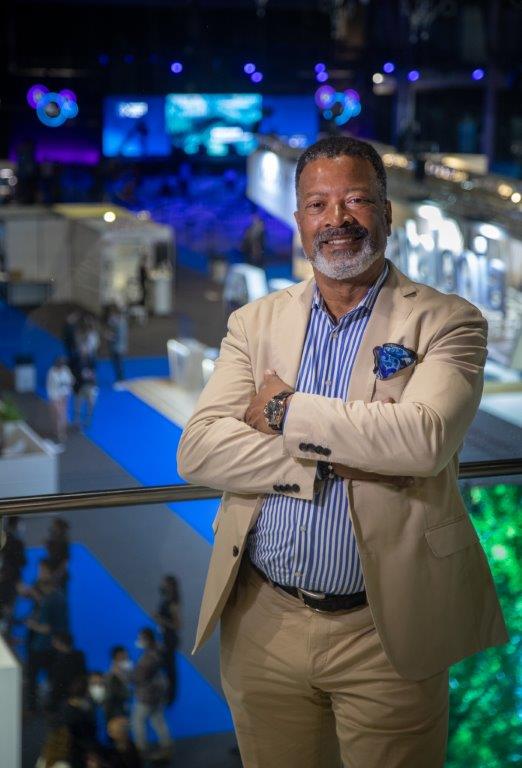 With the COVID situation, trying to stay connected with visitors and exhibitors for a large event like ISE must have been a major challenge, tell us what some of the main challenges have been and how these have been dealt with?
The main challenge was having to be agile in our approach to ISE Live & Online. We are used to presenting large-scale shows, a traditional ISE show takes a whole year to plan and as a team we don't stop. Planning for several events in the face of a pandemic has been a challenge but something we really wanted to do – providing a stepping-stone to get the industry moving and a platform for making connections.
There has been a lot of uncertainty, from regional restrictions to company travel bans, but we took this all on board and went with the flow of the tide. The fact that we have delivered an event in Barcelona, our first ever ISE Digital and we are now looking forward to ISE @ London shows not only the dedication of the team at ISE but also the resilience of an AV industry keen to get back to work!
The Barcelona event, tell us about that, how did it go? What were some of the highlights?
It was a wonderful feeling to be back on the show floor making connections – albeit a more condensed version than we are used to. The event was warmly received by the AV industry in Spain and has become a beacon of positivity for the events industry in Barcelona, so we are immensely proud of this.
The event was smaller than usual but for its size it packed quite a punch. The main highlight for me was being able to bring the AV community together in-person, creating networking opportunities and bringing the buzz back. We had 1,431 visitors on day one and 990 on day two, which exceeded our expectations. Some of the event highlights that really stood out included the AVIXA AV Experience Zone which attracted a full house audience throughout the two days, the Catalan Innovation Zone with the most exciting innovators from the region plus the chance to meet with the AV Cluster and the Barcelona City Council. We also had a great visit from dignitaries including Ada Colau, Mayor of Barcelona, Jaume Collboni, Deputy Mayor of Barcelona and Jordi Puigneró, Vice President of the Government of Catalonia who deemed the event a catalyst for reactivating events and helping to pave the way for economic recovery in the region.
We also had a packed Main Stage programme with truly inspirational keynote speakers, panellists and even entertainment – but I won't give too much away as this is now available to view on-demand at ISE Digital, so take a look!
On to the upcoming London event, tell us more about that, what's the format, speaker/exhibitor highlights?
The London event is a great opportunity to come along and network, meet industry friends and enjoy a drink at our show floor Eve O'Lution Irish Pub with new connections in an informal, yet safe environment. Visitors can browse booths from leading brands such as Shure, Barco, Lang, Jabra and more…get the latest market insights from AVIXA and CEDIA. I would encourage visitors to get the most from their visit by looking at the latest updates at ISEurope.org – you can use our new Meeting Maker tool to set up one-to-one meetings with brands and associations in advance.
Head over to the mainstage for two days of thought leadership looking into different industry sectors, including a keynote presentation from Futurist Amelia Kallman, plus sessions featuring Director of Superyacht Technology Jack Robinson, Pro Audio Analyst at Futuresource Consulting James Kirby, TPi Editor Stew Hume, Inavate Editor Paul Milligan and Founder Dan Jago. From Barco, Andrew Dowsett will be exploring 'The Future of Visualisation', while Jordan Deemer will talk about 'Technology in the Meeting Room'.
There will also be a discussion hosted by Education Technology Editor Genna Ash-Brown on 'Technologies in the Flexible Classroom' and another which will explore the action we can take to champion diversity, moderated by AVIXA Diversity Council Director Kevin McLoughlin. James Bliss, Brand and Communications Manager EMEA at CEDIA will host a discussion about the implications of RP22 for manufacturers, designers and installers with regard to multi-channel audio space design. Join a fireside chat between AV User Group Chair Owen Ellis and AVIXA Standards Committee Chair Greg Jeffreys as they discuss perspectives from the AV User Group.
There will also be a live recording of popular industry podcast The Integrated Home, with host Jeff Hayward joined by guests from Control4, IndigoZest and Homeplay to explore 'Remote Monitoring and Management: The Future of Home Integration'.
At the end of Day 1 we'll be hosting a networking event at our on-site pub, so head over for a drink!
What COVID restrictions will be in place, if visiting the London event what do I particularly need to remember or prepare for?
ISE London has been designed to adhere to current guidelines in England, so thankfully when restrictions weren't eased on 21 June the event was still able to proceed as planned.
Safety has always been our number one priority, and this remains so in London. To help prepare for your visit, print out your badge and bring it with you on the day. There will be no onsite registrations, so this is very important.
Visitors will also be required to scan the track and trace QR code – something we are all very used to when entering bars, shops and restaurants. Face coverings will need to be worn at all times when in the venue, except when seated in the bar/catering areas or in the socially distanced Main Stage audience area. Also, there won't be a cloakroom at the event this time.
The full list of Covid-19 protocols is available to view on the ISE website.
Tell us about 2022, what should people expect from the event next year, what are you looking forward to the most and what do you think will be some of the main areas of interest or show highlights?
We can't wait for ISE 2022, where we will be back with all our might in Barcelona! Exhibitor rebooking officially opened last week and early indications show record sales for this stage of the pre-sales process. In fact, over half of the exhibitors took 80% of the show floor – the equivalent to around two-thirds of the entire space at ISE 2020 – illustrating a keen appetite for AV to get back to business!