One of the most innovative high-performance speaker brands on the planet, James Loudspeaker had a busy CEDIA Expo with the big news of a plan to be purchased by Sonance and also some cool new offerings.
Just before the CEDIA Expo, it was announced that there is a plan for Sonance to acquire James Loudspeaker by the end of the year.
CEO of James Loudspeaker, Mark Schafle, explains, "Over the course of nine months of discussion, both Sonance and James realised as one that we would offer our clients so much more if we joined forces. Just some of the benefits delivered will be combined engineering to reinforce our goal of providing superior acoustic performance in hidden products.
"This will provide our domestic and international partners with product solutions spanning the complete audio spectrum and delivering innovative approaches not only to products, but marketing and sales to provide our partners with the best tools!"
So, the message to Pulse Cinemas' UK customers (distributor for the brand) is that it's not just business as usual for James Loudspeaker, but expect to see lots more from the brand in the future.
So how did the news go down at CEDIA Expo? Mark says, "CEDIA was a buzz with the acquisition. Dealers realised the power of 'one' in this acquisition. Anyone familiar with the two brands realised this deal made perfect sense. In fact, Ted Green (of US news site Residential Systems) will be doing a follow up series on 'They did this merger right'."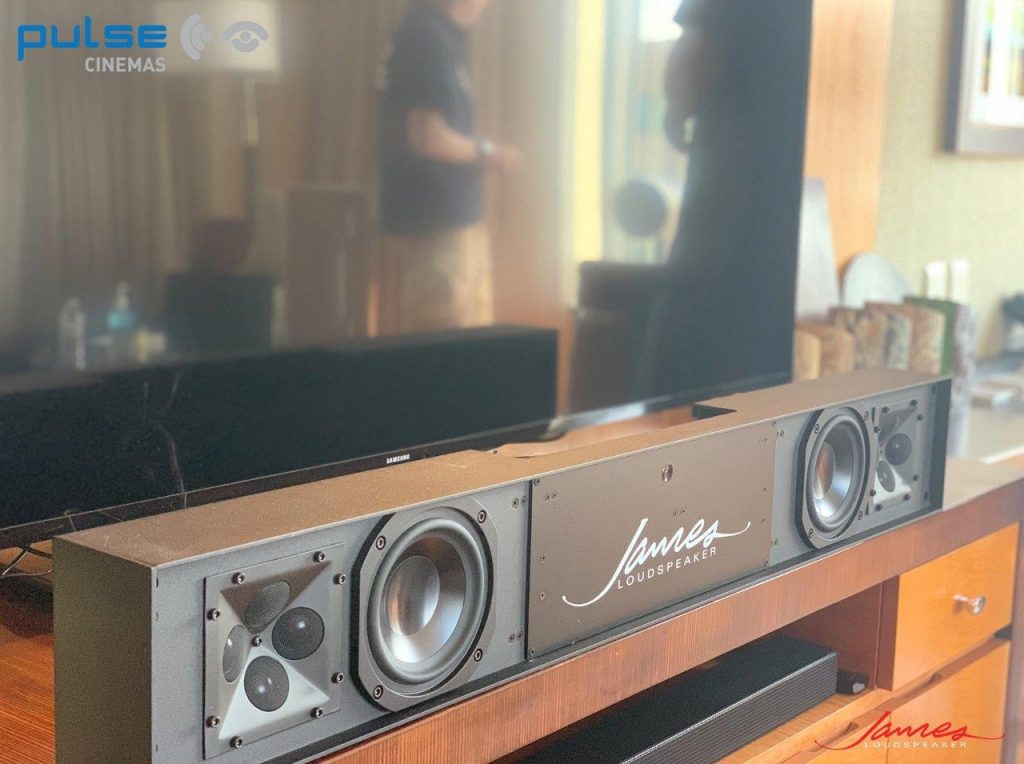 The power of one
Products and innovation-wise, the show was a chance to showcase the new PSB56 powered soundbar. This new product offers universal AC 100V to 240V capabilities, auxiliary analogue in so a source device with analogue line output such as CD, DVD, network player, preamplifier, smartphone, tablet and the PCs/ laptops via 3.5mm headphone jack can all get involved.
There is also coax digital in, so those same devices with digital out are compatible too as well as optical/tosslink to further increase digital connection possibilities.
There is also HDMI-ARC in, subwoofer pre-out via RCA cable and an optional 2.4GHz wireless transmitter. The connectivity keeps on coming with source device compatibility over Bluetooth.
The speaker itself boasts Quad 20mm aluminum dome tweeter, dual 5 1/4in aluminum cone woofers, 50W X4 or 100W X2 channel amplification and an active crossover with PEQ via DSP. A feature of course strongly associated with James is creating bespoke designs and the new soundbar is no different.
The product comes in custom sizes to suit screens of 55in and above with unlimited colour matching too.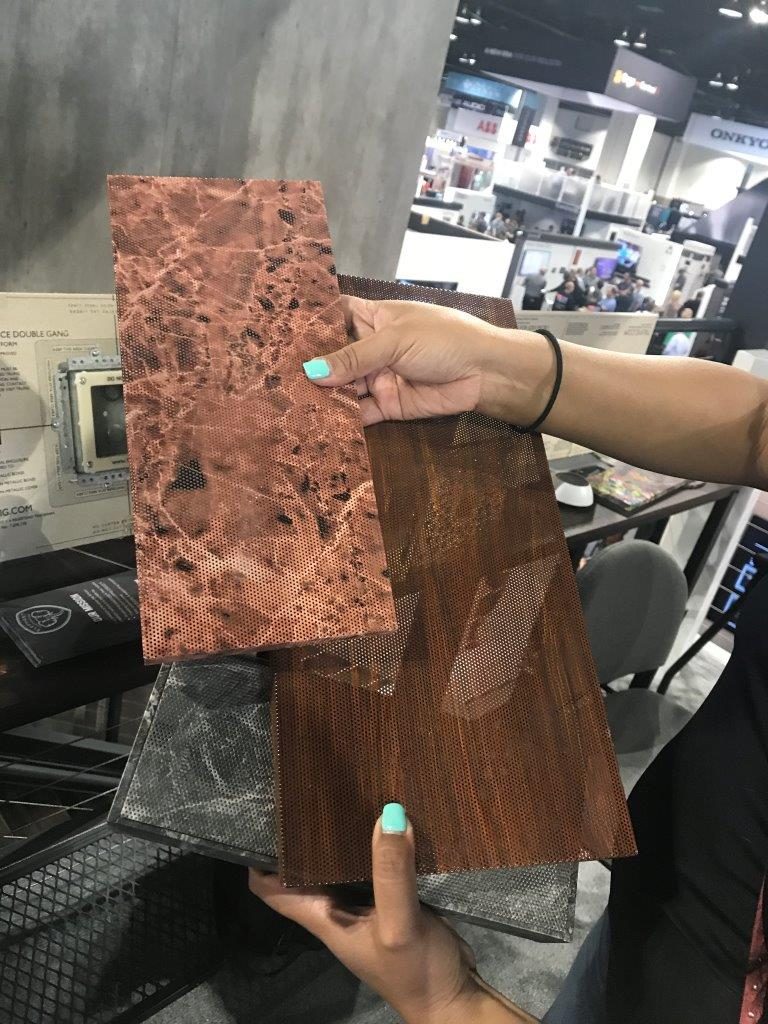 So, what is Hydro-dipping?
Another seriously cool James Loudspeaker offering was also on show with its ability to offer 'hydro-dipping' to create a myriad of design possibilities for the exterior of speakers to either hide them or make a design statement. So, what is hydro dipping? Basically you can take any image or photo and convert it to provide the finish that goes on the exterior of a product.
Mark says, "Stunned amazement would be the best way to describe dealers' reaction to this capability. Converting hi-res photos to film and providing this finish to the product opens up a whole world of opportunity.
"The powder coat base and clear coat provides superior protection and with standard film over the top, you can create camouflage or stone backgrounds, anything you want for quick and immediate solutions. The cost is very competitive and turn-around time is very quick as we have brought all of the equipment in house."
Mike Beatty, MD of Pulse Cinemas, adds, "We were really impressed with the new product and the hydro dipping as well, it's just such a cool feature perfect for our industry. The whole team is looking forward to continuing our work with James Loudspeaker; it's a brand that just keeps giving us and our dealers great concepts to sell to end users that they will love.
"We have big plans for this brand moving forward including huge benefits for the most supportive dealers which includes visiting company HQ in Minden, Nevada! So stay tuned for more big James Loudspeaker news!"