Stuart Lillis, Director, Limitless Automation guides EI around this impressive home cinema that celebrates the power of transformation.
Stuart explains, "This was a fresh client for us, who found us through social media. It was a wonderful experience getting acquainted with the family, even though they already had some familiarity with us through our daily content.
"The process was relatively straight forward, though this was the clients first dedicated cinema. After some discussions over the client's preferences, we pulled together an estimate to give the client a feel on how much these rooms cost, and then a couple of revisions to tweak to their preferences and budget."
Stuart adds, "This client has a strong technical background, which turned out to be a delightful aspect of the process. It was a refreshing change of pace to discuss technical details over afternoon coffee whilst catching up with the daily progress. Although the scope of works remained relatively consistent, we explored various options and concepts during the process. Fortunately, we were able to align things with the client's preferences on the first attempt, which was a great success."
Adding more detail to the approach for this room, Stuart continues, "Early on, we knew that this room would be dedicated to a cinema experience, and we wanted to involve Cinema Build Systems right from the beginning. Working closely with them, we ensured that every aspect of the room's design and specifications exceeded expectations. While our primary focus was on creating a top-notch cinema room, we also wanted to make it a relaxing space for the entire family.
"Knowing that the couple loved F1 and would likely spend extended periods enjoying the room, and with the wife expecting a baby, we designed it with their needs in mind. Given their love for both F1 and movies, we planned for a 16:9 ratio with 9:2:4 Atmos, Rako lighting, and Control4 for seamless control and automation. The goal was to deliver an exceptional cinematic experience that catered to their specific interests and preferences."
Challenge
Builds of this kind are rarely without their challenges, and this space was no different. Stuart says, "Apart from facing a tight build schedule and some component shortages, our main challenges during the project were related to the architectural aspects of the room.
The room's long and skinny shape presented a design dilemma as we wanted to avoid cutting into the room too much. To overcome this, we implemented a creative solution by building out the baffle wall and utilising Cinema Build Systems' halo frames. These frames helped conceal all wall-mounted speakers and acoustic treatment behind fabric tracks, providing a clean and seamless appearance. "Additionally, we decided to hide the ceiling speakers within the ceiling coffer and also then covered them with fabric to ensure complete discretion and a polished look. The build itself posed a unique challenge as it was an unused and neglected study within a mid-century extension to a Victorian house. As expected, the room's existing structure did not offer a single straight line or right angle.
Aligning everything to achieve a harmonious and aesthetically pleasing outcome proved to be one of the most significant hurdles we encountered during the process.
"Despite these obstacles, our team was determined and resourceful, ultimately delivering a stunning dedicated cinema room that surpassed expectations while blending seamlessly with the existing architecture."
Stuart also underlines some touches that made the project that little bit more focused on the customer's needs, "As a fundamental principle, we always start from the experience and work our way back to the black and grey boxes, and this project was no exception. By placing the experience at the forefront and working our way back to the technical aspects, we were able to deliver a dedicated cinema room that was uniquely tailored to the clients' desires and provided a truly exceptional viewing experience."
Favourite aspect of the cinema time, what does sticks out the most? "My favourite part – quite simply is the sound," says Stuart, "I firmly believe that we made the best use of the client's budget, and the results speak for themselves. The combination of components from Anthem, System Audio, SVS, and Cinema Build Systems' room treatment, including the new reactor panels, created something truly extraordinary.
There's a certain feeling you get when you step into a room, and you can just tell that the acoustic treatment is perfectly balanced even before turning on the amplifier. And when the sound starts to fill the space, the dynamics are simply mesmerising. Was it Mozart that said, 'The silence between the notes is as important as the notes themselves.'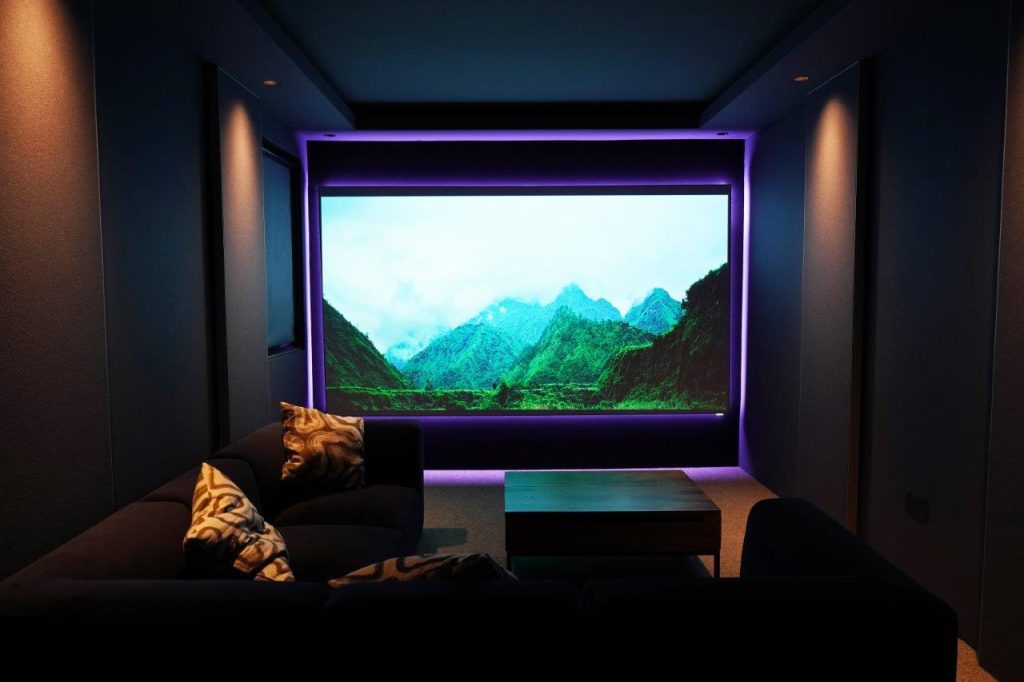 Essential Kit List
Control4 Core1
Control4 Neeo
Sony VPL-VW590
Anthem MRX 1140
3x System Audio SA legend 7.2 silverback
6x System Audio Saxo 16
4x Revel C383
2x SVS S3000 Subwoofers
Lexicon DD8
Cinema Build Systems Halo Edge Screen
Cinema Build Systems Halo Frames
Cinema Build Systems Coffer Ceiling Solution
Cinema Build Systems full acoustic treatment and stretched fabric solution, including reactor panels
Rako Lighting including EOS faceplate, 3 channels of coloured lighting and 2 white
Ray lighting