The building has many cutting edge and outstanding features, however we at EI were most curious as to what might be found inside the organisation's brand new cinema.
As the flagship building for the trade association, you would be forgiven for thinking it ought to pretty good and it is, here EI reveals some of the story behind its creation.
Gerben Van Duyl, Director Procella Audio (Sweden), one of the brands chosen to help put the cinema together, explains, "The first I learned about it was an email that arrived on August 5, 2017 at 3:30pm in Sydney where I live. My phone pinged, so it must have been important and I woke up to read it. It was from Chuck Back, our Procella partner in the USA. He had just been talking with cinema design expert Dennis Erskine, the then Chairman of CEDIA, as well as being the CEO and Founder of the Erskine Group, specialising in architectural acoustics. Mr Erskine had personally invited Procella to contribute to this great plan of his, the CEDIA-reference-theatre-to-be.
"At that point in time we did not know any more than that, we had not seen any plans or design drawings. But, when Mr Erskine invites you to be part of something that sounded like it was going to be really quite important to CEDIA, you just say yes. And that is what I did, I replied with a one-word email."
Information around the project was kept very tight and those involved could not say a word about it in public for another 18 months.
Gerben explains, "Now that it is finally here and operational, it is fantastic! What an effort it has been from all parties involved to get to this point. And the result shows that effort, it is truly the best demo room in the world for state-of-the-art home theatre technology.
"So yes, we are very proud. Procella is really quite a small company compared to some of our large international competitors, but we focus on one thing only: making the very best loudspeakers for home theatre and professional cinema. That focus and that pure quality is what got us selected, so this is a massive recognition of the work we have done in the past 12 years since we built the first Procella loudspeakers for DTS in 2006."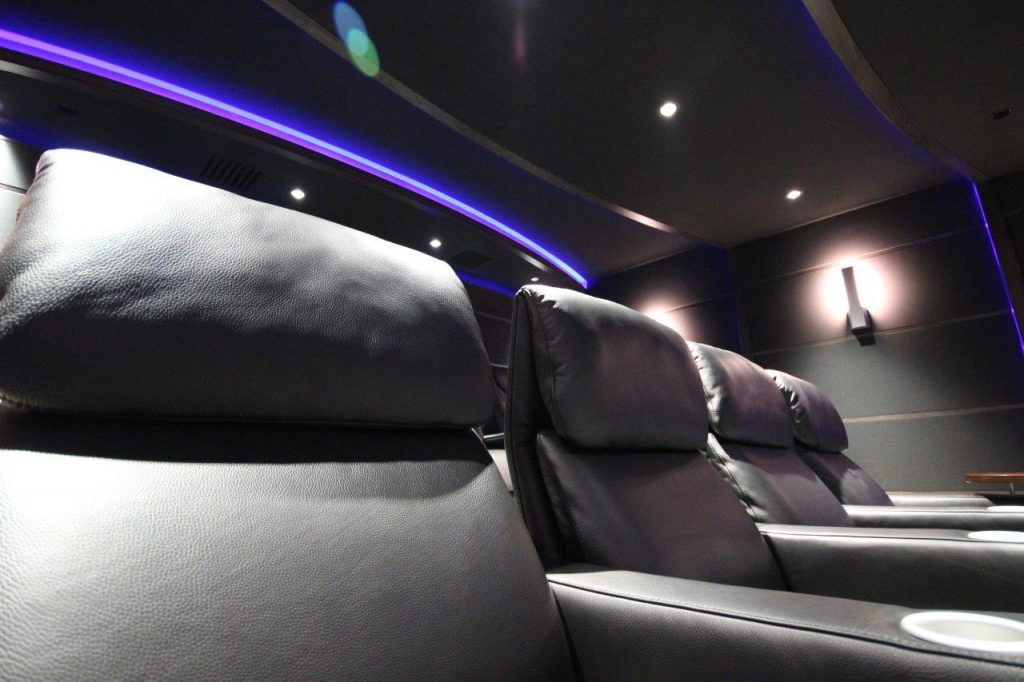 So, what has gone into the 'best demo room in the world?'
Gerben reveals, "In short, it all starts with the acoustical and cinema design. This room has great audio and video quality because it was designed to do so. This is not a 'slap-on-a-few-panels-and-curtains-and-see-what-she-does' approach, quite the opposite. Dennis Erskine did the design and incorporated bass trapping behind the screen, under the seating platforms, and in the ceiling.
"He designed acoustical diffusers, absorbers and reflectors in the walls. Expert acoustician Gerry Lemay supplied the acoustical products, all of which are hidden from sight behind the fabric finishings, as are our loudspeakers. This room is also completely isolated from the rest of the building, with a true box-in-a-box design. This stops sound pollution from the rest of the building leaking into the room and spoiling the dynamic range of the recordings and our loudspeakers. It also stops sound from leaking out, but that is merely a happy side benefit."
Gerben adds, "There is extensive building work and carpentry in the room as well to incorporate near-silent air conditioning, extensive cabling and to provide the interior design. The end result is very clean and realistic audio, delivered with extreme power and dynamics. Any homeowner who would get a theatre like this would end up watching a lot more movies and enjoy them a lot more than in a less perfect room. It's a jewel of a room that would put a smile on your face every time you turn it on."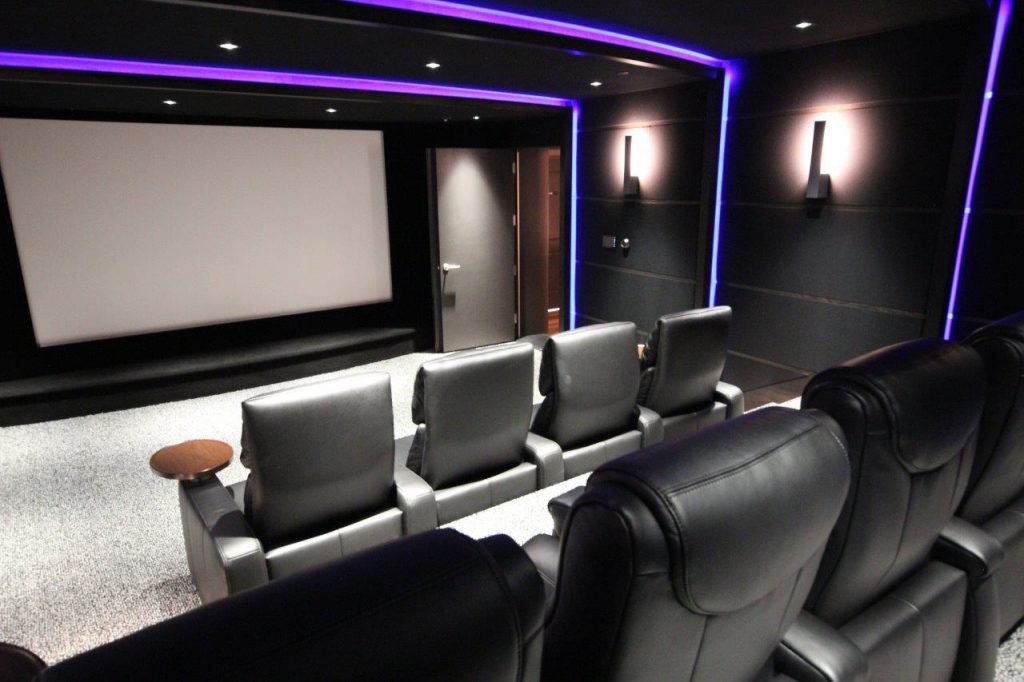 The right equipment
Getting into the detail of what the room contains, Gerben explains, "Behind the Stewart Filmscreen are three of our Procella P815 loudspeakers, the champions of medium sized home theatre rooms and THX PM3 approved. With a proper 15in driver for bass, an 8in for mid-range and a 1in Italian made compression drive on a proprietary waveguide, the P815 is a full-range powerhouse.
"The P815 is bi-amplified, so an active crossover in the Trinnov processor is required, to split the bass and the mid/hi signals. The LFE channel is taken care of by no less than four of our P18 subwoofers, and they are evenly distributed throughout the room.
"The curve ball there is that master-calibrator, Adam Pelz, used two channels per P18 each, which he used to calibrate each of the 18in drivers individually, talk about attention to detail. The bass performance is absolutely stunning in this room, something you have to experience."
Gerben continues, "The surrounds are taken care of by eight of our P6V and the overheads are six of our P8 in-Wall/in-Ceiling loudspeakers, which we only released in September 2018. So, we threw Dennis and his build team a bit of a curve ball, when they saw the new P8iW in San Diego last year, they had to change their drawings and carpentry to accommodate the P8iW, as they really wanted to use the unique features of that one.
"Especially the tweeter that can be rotated to point at the audience no matter where it is located in the ceiling. This helps tremendously with the immersive sound delivery in the room, for Dolby Atmos, DTS-X and other immersive formats."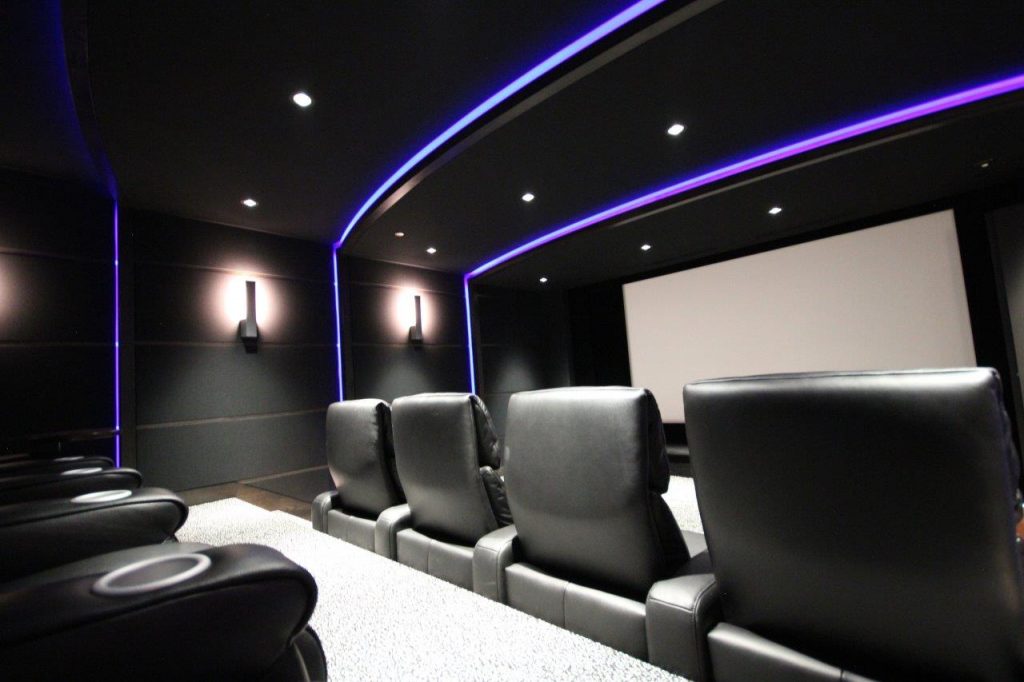 So what are the plans for the use of this new space?
Gerben says, "First and foremost, many of the CEDIA trainings in the USA will take place at the new CEDIA HQ, so every CEDIA member who goes there for their training will be exposed to the Reference Theatre. That means that hundreds, maybe thousands of industry professionals will be exposed to the Procella Audio products and quality.
"Yes, this contribution really was a very good investment for us. And this is not the only investment in the US market we have made in 2018. We also opened up our own distribution warehouse in California, so we have a full complement of product in stock, ready to be shipped throughout the USA. With the Reference Theatre we show people how good home theatre can sound, with the warehouse we make the Procella Audio products readily available to them.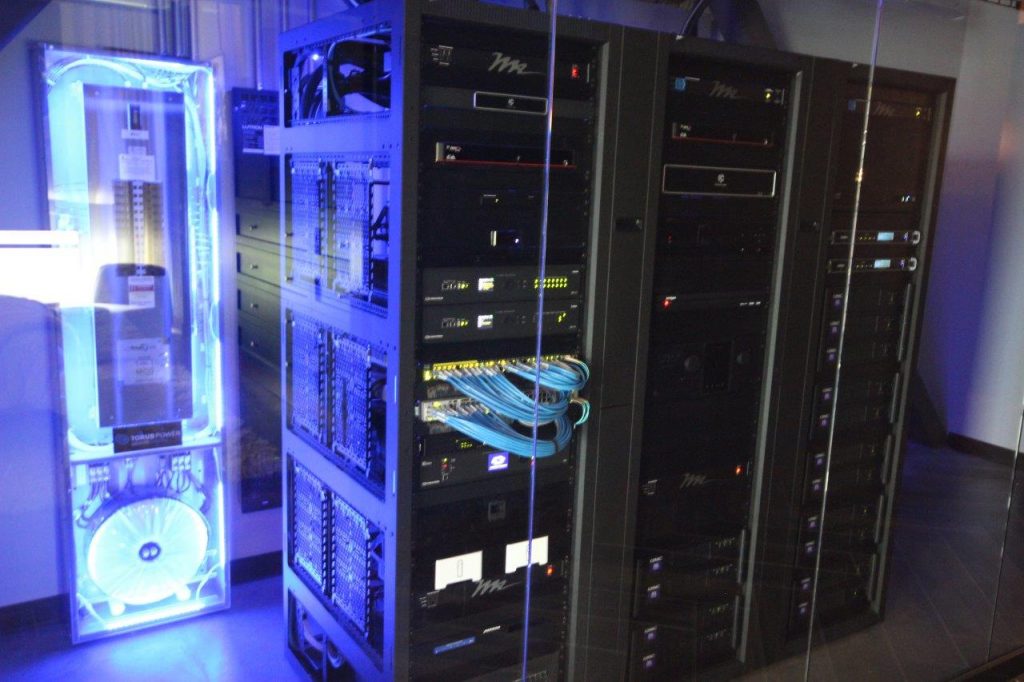 Loads of other brands and personalities were also involved in the creation of this cinema.
A Barco Loki Cinemascope P3/DCI projector was used for the imaging, the Trinnov Altitude 16-32 32 channel audio processor was employed to drive the cinema and a Kaleidescape Stato S Movie player/server feeds content into the room.
Also included in the cinema are Lutron lighting, control from Crestron, racking from Middle Atlantic and seating by Cinematech.
Essential Kit List
Stewart Filmscreen 174in 2.4:1 VistaScope Masking Screen with Ultimatte 130 microperf material
Barco laser Loki Cinemascope P3/DCI Projector
Lumagen RadiancePro 4444 Video processor
Procella speakers 3 x P815 dual amplified LCR's, 8 x Procella P6V speakers for the side/rear effects, 8 x Procella P8 Inwall ceiling speakers with aimed tweeters, and 4 x P18 dual 18in bi-amplified drivers for a total of eight individually calibrated 18in drivers
Trinnov Altitude 16-32 32 channel audio processor
QSC Core 510 DSP Processor
15 x QSC DCA amplifiers hitting 19,200W of amplification
TorusPower – Custom made all-in-one power transformer
Kaleidescape Stato S Movie player/server
Lutron Homeworks lighting
Ketra Lighting
Crestron Control system with Pro3 processor, TSW-760 and TSR-310 UI, TSS-752 room scheduling panel outside and OCC sensor for advanced functions
Feed from the building Crestron NVX video distribution system giving the theatre access to all of the building shared sources including Apple TV, NVIDIA, Sheild, Digital signage players and Roku players
Dish Network Hopper 3 Satellite
Oppo UDP-203 Blu-Ray player
Middle Atlantic racks
Cinematech seating
Quest Acoustics
Building HVAC by Trane (Dedicated VRF system in theatre)