After receiving a high-quality demo, there was only outcome the customer wanted for their home cinema project. Luke Crutcher, Director at Living Home Tech, takes EI on a tour around this smart and well executed room, another of the projects that is in the running for this year's Smart Building Awards.
After being awarded this project through a contractor, the client had a very simple entry level Home Cinema system planned. We however reached out to them and took them through the possibilities with demonstrations. From that moment the client wanted that 'epic' performance in their home.
So, we carefully planned and designed their dream home cinema for their very tricky space! The design process took a lot longer than normal as this room was very tricky in every way, shape, length, width, ceiling height and ceiling pitch! With a number of on-site design sessions taking place to make sure we could deliver our proposed experience.  
 We are very proud with the end result of how the room looks, but most importantly how it functions as a very impressive home cinema experience. We have had amazing feedback from the clients and their visitors, with many hours spent in there for a movie or sporting event.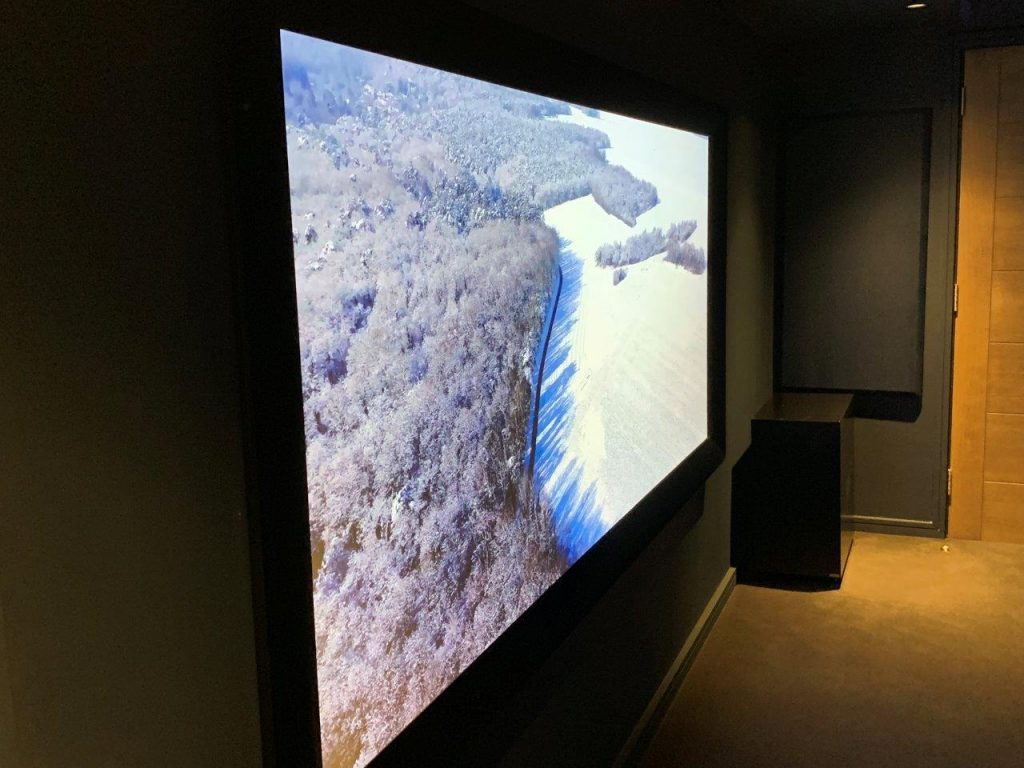 The challenge
This project was particularly challenging with the short throw distance from the projector to the screen being one of the main issues. As the cinema room was in the newly fitted out loft space, we were restricted with ceiling height. This room was challenging in every way, everyone at Living Home Tech embraced the challenge, which fully tested all of our knowledge.
Our design service gave us the tools to turn this room into a very impressive home cinema space for the client and their family to enjoy family time with a movie. The client remit after our demonstrations at our showroom were to have the image as big as possible and the sound to match. We had to go with a custom width screen to achieve the largest image of 91in widescreen in a 2:35 format for that truly cinematic experience.
We've achieved reference levels at the centre sweet spot, unfortunately we couldn't add in overhead Dolby Atmos channels as the room layout didn't allow this. With the seating pushed as far back as possible, the rear channels were best placed on the side walls.
We liaised with the onsite contractor to make a bespoke projector housing so this would be carefully placed as far into the roof as possible without impacting the structure of the roof.
Also installed was a Zapiti 4K movie server with NAS storage, so the client will have instant access to their media library. With lossless playback this was a great added feature for the client. 
We also set about designing an Artnovion sound treatment for the room, to further enhance the performance. We used a mixture of absorption, diffusion and bass traps. The client choosing what finishes they wanted to match the interiors. With Control4 and Clipsal C-Bus taking care of controls in this area, the client can easily select their content and sit back and enjoy.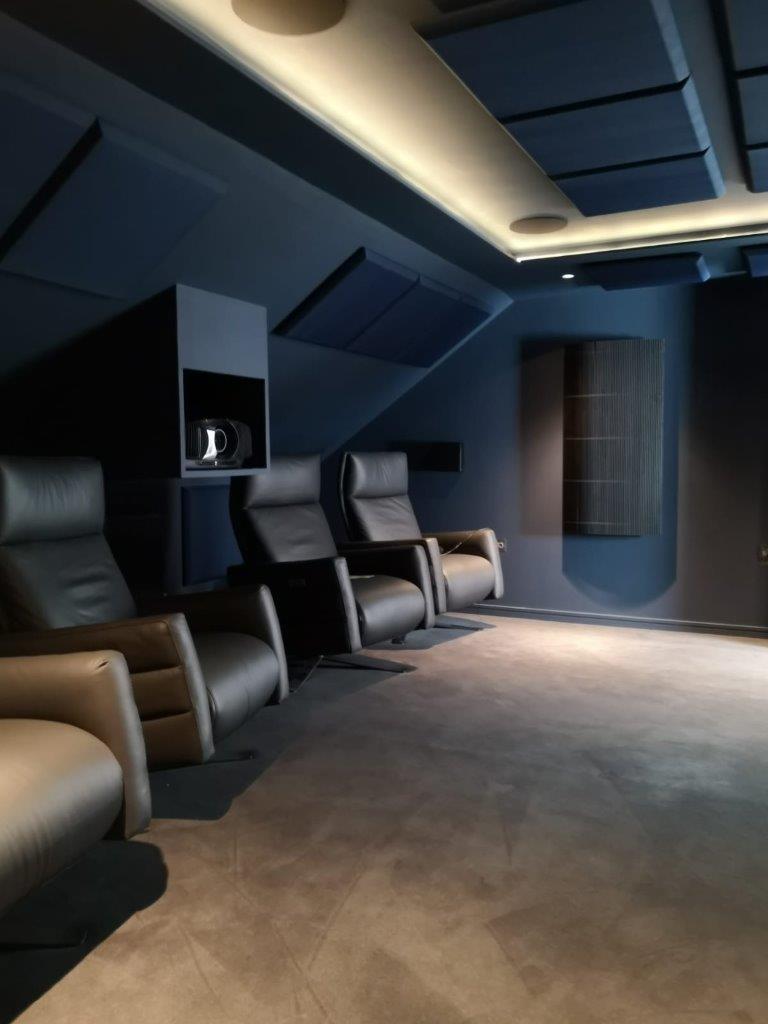 Essential Kit List
Clipsal CBus – Lighting scene controls, 'movie time' etc.
91in Wide Screen Excellence Neo 2:35 4K fixed screen
Sony VPL-VW260 4k Projector
Artcoustic Spitfire 4-2 front speakers (x3)
Artcoustic Targets (x2)
Artcoustic Architect SL (x2)
Artcoustic Impact 3 Subwoofer
Artcoustic PDA1000 Sub Amplifier
Denon 8500 Amplifier
Sony X1000ES 4K Blu-Ray Player
Zapiti 4K movie server with NAS storage
Artnovion LOA and Siena Sound treated walls and ceilings with bass traps
Front wall acoustic foam treated around LCR channels
Control4 Automation with SR-260 remote control.
Lighting by Orluna, all LED