EI presents a case study of this high performance home cinema creation by a team of experts from around the globe, who came together to make this ambitious customer's home cinema dreams come true – combining Trinnov power and Procella precision.
Gerard Brouwer Sales Agent, Consultant and Project Manager for Home Cinema Projects (distributor for Procella in the Benelux region and Germany) explains that the cinema is located in a new-build property and is in fact the owners' third high-performance home cinema and his second involving Procella products.
This beautiful home is located near the sea just to the south of the city of Gothenburg, Sweden, with the cinema itself set in a building separate from the main home which used to be the pool room.
The space itself measures 6 x 12 metres (70 metres square approx.), however, after the concealed custom acoustical treatments were added, the cinema proper measures 6 x 8.5 metres. The equipment room is located to the rear of the cinema in a separate space.
Gerard says, "Mats (the client) had a very clear plan: state of the art, anything else would not do. Whilst we contributed with the speaker selection and positioning, renowned home cinema expert Ingemar Ohlsson (founder of Audio Data Lab) designed the room acoustics. The room is unusually large, at least with Scandinavian measurements, but the owner also had a great vision for the interior design and lighting."
Ingemar delivered the acoustical design for the cinema, providing construction and acoustical treatment drawings as well as a 3D computer model of the room, which was used to run acoustical simulations before making the final specifications.
The Procella team delivered the cinema room design; screen size, seating position and speaker layout all based on THX and Dolby guidelines.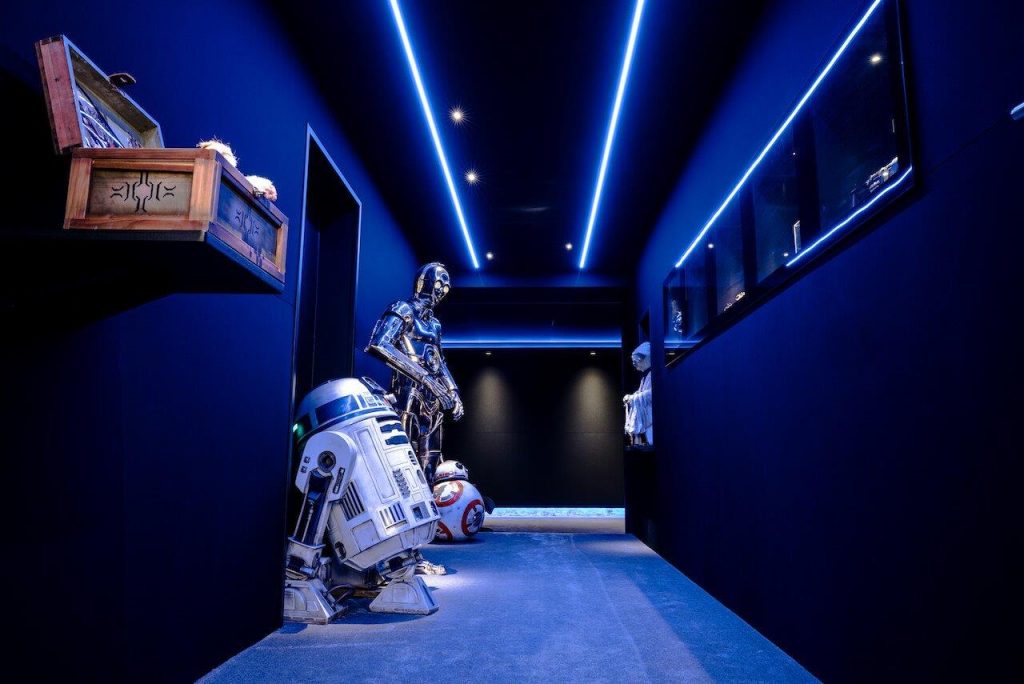 Benoit Munoz, Marketing Manager for Trinnov, explains his company's involvement, "We were involved from the ground up, through NSHT, our Swedish distributor. They were instrumental in the project and joined by Anders Uggelberg, founding partner at Procella Audio – both long time Trinnov audio users and supporters. This team has worked together in the past on other high-performance projects and is well-versed in the capabilities of our Altitude platform, particularly over such a large number of speakers."
Gerard adds, "The Trinnov processor opened up the possibility for a full, 24ch immersive sound system. Procella speakers are straightforward modular, with a clear room size designation for all models to achieve full THX and Dolby compliance. We knew the partnership would be a strong one in this project."
Key to a project like this, of course, is a huge amount of planning so the team reports that no particular challenges were encountered during the build phase. The only major change was that there had been a plan to include a pair of balancing subwoofers, but the room acoustics turned out so well, they were not needed.
Benoit is keen to underline just why a project like this needs the power of a product like the Altitude32, "The Trinnov Altitude32 is essential to the performance of this system in at least three levels."
In terms of playback, it takes full advantage of the 11.3.8 speaker layout, discretely rendering the decoded audio to each and every channel. Indeed, only the Altitude can render the full number of available decoded channels, from every immersive audio format. That level of flexibility ensures that there is no limitation to the designer's ability to position speakers to provide the most consistent sound reproduction across the entire listening area without compromise in regard to what's contained in the source material.
That's true not only for native Immersive audio soundtracks but also for legacy 5.1, 7.1, and even stereo material played through an up-mixer.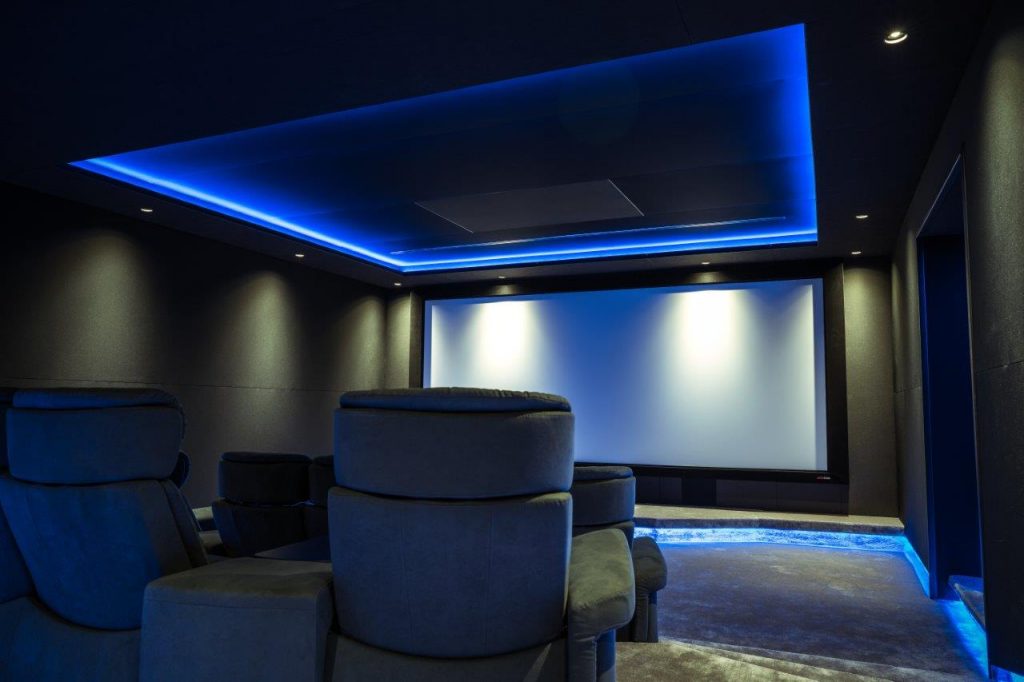 Benoit adds, "Next, the processor plays a critical role in ensuring that all the speakers work well together. The system includes three different speaker models, and even though Procella speakers are designed specifically to deliver the same sound quality and sonic signature with different output capabilities, once you place them in different locations around the room, they will no longer sound exactly the same. This reduces the impression of being in a seamless sound field or sound bubble. Even in a very good acoustically-designed room like this one, the Optimizer's electronic correction builds on what is achieved passively, using sophisticated digital filters that correct in both the amplitude and time domains, as well as performing the expected level and time alignment of all speakers with a very high degree of accuracy."
Benoit concludes, "Finally, as sound is very subjective, the Altitude is a powerful tool for acoustic tuning, which is not only used to meet reproduction standards but also to meet the client's expectations and preferences. To summarise, acoustic optimisation is the icing on the cake. It turns an already excellent home cinema into an even more immersive, powerful and finely controlled audio system.
Like all top end processor makers, Trinnov has been keen to keep its high performance home cinema credentials in place and recently introduced a software upgrade that delivers DTS:X Pro.
Benoit argues, "This software upgrade is yet another example of the added-value Trinnov brings as a manufacturer to the industry and its customers. Indeed, we were in contact with DTS as early as the end of 2014, working with them to help bring about the first version of DTS:X. Our software implementation not only benefits Altitude owners but also presents interest for Codec providers as the best go-to-market solution.
"Because we are not limited by processing power, we can not only implement new technologies faster but also implement them to their maximum capability, fully demonstrating their benefits. That was the case with Dolby Atmos, when, in 2015, we released a processable to render up to 32 discrete channels of a Dolby Atmos stream, a capability that is yet to be matched.
"Getting back to DTS, we were the first to release DTS:X in 2016, as a free update to all our customers. However, even though the core technology supports up to 32 discrete channels, this first implementation enabled rendering of only 12 discrete channels removing that limitation was our primary focus through 2019; not only working closely on this new implementation with DTS engineers, but also promoting DTS:X Pro around the world."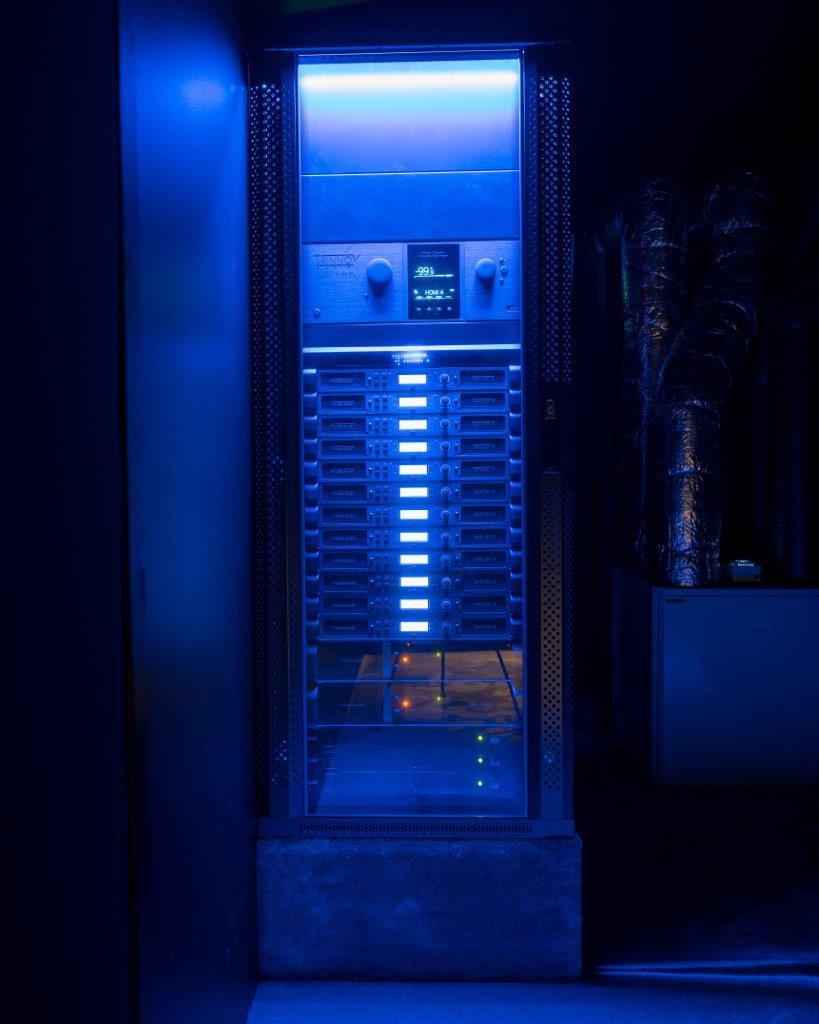 Benoit adds, "Increasing the number of discretely rendered channels provides significant improvements, not only in terms of object rendering but also in terms of bed playback and up-mixing. Indeed, the Neural:X up-mix engine maximises speaker usage in a unique and powerful way, making the whole experience more consistent throughout the listening area.
"In early 2020, we delivered the result of this hard work, as another unrivalled implementation: DTS:X Pro fully unlocked and made available to all Altitude owners at no cost."
This high performance home cinema also includes JVC's flagship Z1 projector which is housed behind a port sealed off behind optical glass and mounted on a slight tilt to prevent reflections. Seating is from the Stressless Legend recliner line from Ekornes, with two rows delivering a total of nine seats.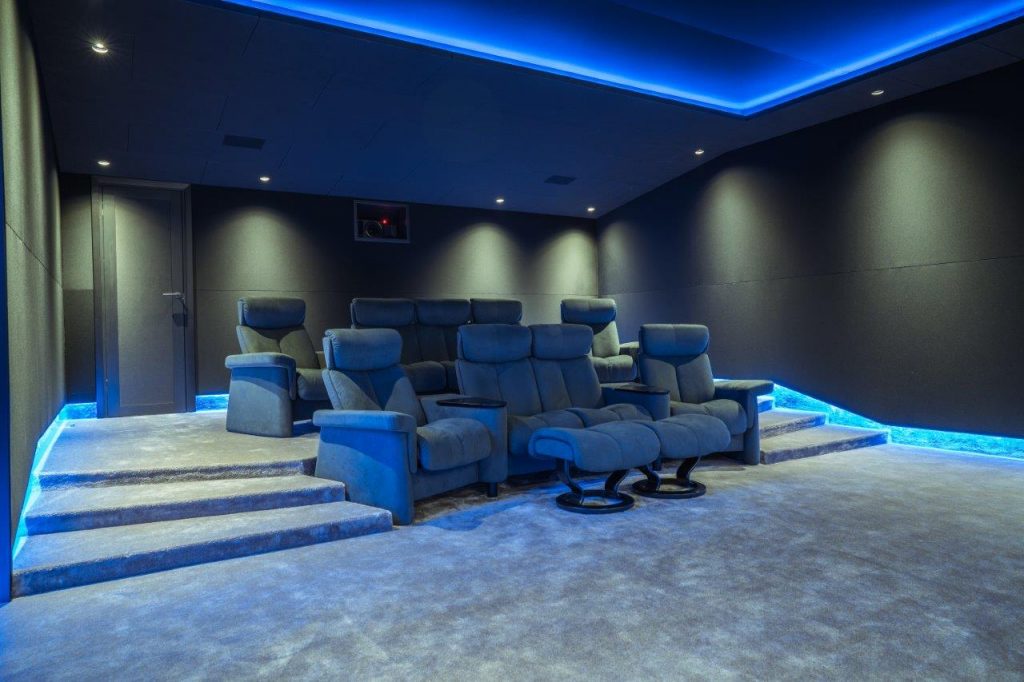 Favourite aspects of the cinema?
Gerard enthuses, "The attention to detail in this home cinema is absolutely stunning! Most important is that the owner is very happy with the outcome!
Benoit observes, "Encountering a life-size C3PO and his R2D2 friend upon walking into the cinema tells you immediately that you are not in your usual home cinema! We were highly impressed by all the original Star Wars memorabilia. Then, entering the cinema itself, the volume of the room was the first big impression, followed by the sense of comfort and performance that comes from the selected fabrics and overall design. Everything is hidden and nicely lit as expected, but even before seeing or hearing anything, one senses that this cinema was conceived by experts to reach for the ultimate experience.
"And what an experience it is! Playing first the infamous Mad Max: Fury Road clip from the Dolby Atmos demo disc, we could not believe our ears, hearing even the smallest detail of the soundtrack while feeling completely immersed in the sound stage.
"Combining this with impressive dynamics and a perfectly tuned low end, this cinema can certainly reach very high sound pressure levels without you even noticing it. In such an environment the precision of placement and movement of the soundtrack's audio objects draw you even deeper inside the movie for an incredible experience.
"In conclusion, the most impressive thing we remember is perhaps the project itself – its ambitious scope, and how professionally it was executed and completed, from the design phase through its installation and commissioning."
A full year in the making, this high performance home cinema cuts a very impressive rug and whilst it's a dream to have such an enthused and engaged client with the vision to create something like this, the technical team have done a fantastic job bringing it all together.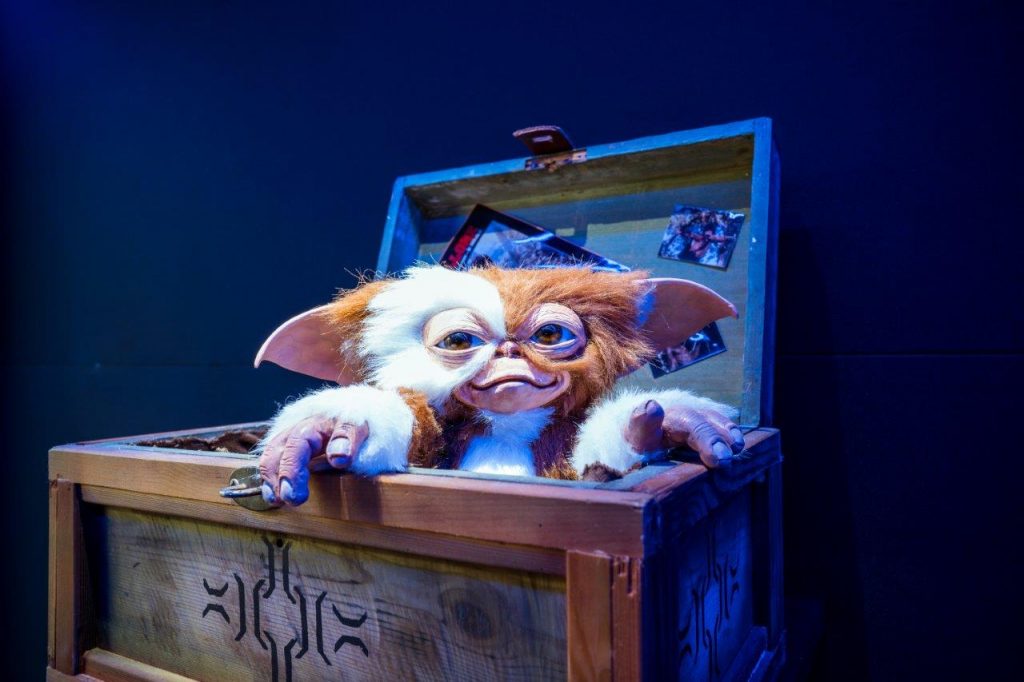 Essential Kit List
Specifications: 11.2.8 Dolby ATMOS, DTS X
Processor: Trinnov Altitude 32
Power Amplifiers: 12 x Procella DA05-DSP, 2x600W, 2 x DA07. 2x2800W
Screen speakers: 3 x Procella P815
Surround speakers: 8 x Procella P6 and Procella P6V
Atmos speakers (Ceiling): 8 x Procella P5
Sub-woofer: 2 x Procella V18
Media server: Egreat
Projector: JVC Z1
Screen: 1: 2,40 Screen Research XLR3, isf THX 180in 4,45m wide side and height masking
Mains power: Furman
Control system: Control 4
Room acoustics: SMT AD40 Diffusers on walls, Ecophon absorbers in ceiling, bas traps in floor and booth
Climate control: A/C with FTX, AC 10kW, control by Control 4