In an exclusive first visit, EI was invited to check out the brand-new showroom created to showcase the Lyngdorf Audio and Steinway Lyngdorf brands in the UK. 
In October of 2021 it was announced that after establishing a new company in the UK, the Lyngdorf Audio and Steinway Lyngdorf brands would be supplied to dealers and installers direct, with the maker appointing a new team to lead this new approach. With Charlie McClarron appointed as Sales Director, later joined by Simon Schino as Sales and Operations Manager, supply direct began in April of 2022. A part of this new approach was always the ambition to build a comprehensive showroom to give installers, dealers and their customers a chance to experience fully what the company has to offer. That ambition is now a reality with this impressive showroom nestled in the North Essex Countryside, residing on a beautiful early Georgian farmstead and equestrian centre called Brook Farm.  The showroom is situated in a stunning converted medieval barn, a fine canvas to showcase the different solutions the company can offer, delivering an appropriate backdrop for the client group the team wants to target.  The open plan space provides two floors of luxury showroom with the ground floor operating as the Lyndorf Audio showcase and the upstairs catering for the Steinway Lyngdorf products. The ground floor also features a meeting/planning area and an impressive home cinema showcasing both brands.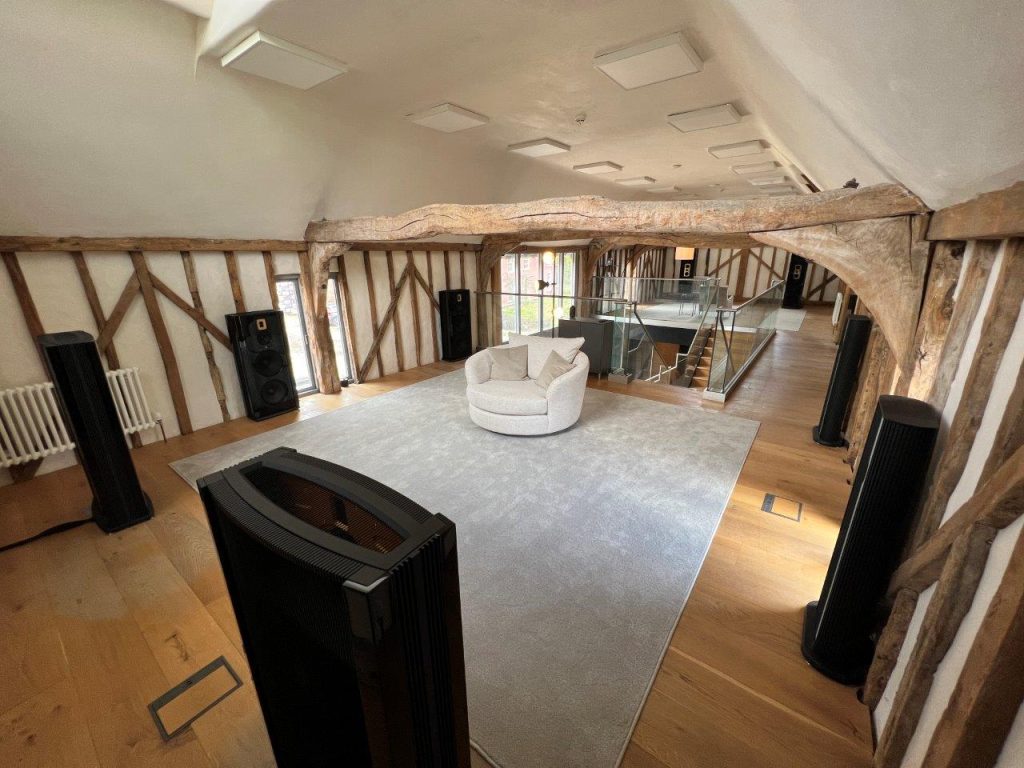 Charlie explains, "It has been a real challenge to get to this point. We knew right away when we first viewed it that this location was the right fit for us, but as we all know, working with a period and listed property such as this presents a certain set of challenges; some you can foresee, others are not so obvious. However, all the hard work has paid off and we are proud of what has been created here. We feel it gives a great insight into each brand and we have designed the space to showcase different solutions for a range of use case scenarios that customers will be able to relate to."
Explaining the details of what is on demonstration, Simon reveals, "Across both brands, we are highlighting 12 different systems. We have everything from a basic on-wall speaker setup with no subwoofers, to stereo setups with subs, a 5.2 media room system, and two full on 7.2.4 cinemas. To list the systems, we have an MH-2 with no subs running from a TDAI-1120, CS-1 in cabinet speakers running from a TDAI- 1120, MH-3 with BW-3 subs running from a TDAI-1120, D-500 with BW-2 subs running from a TDAI-1120, and a CUE-100 running from a TDAI-3400.
"We also have Steinway systems in stereo which include Model O, Model A, Model B, Model D, then we also have a Model S 5.2 living room system. In the cinema we have a Lyngdorf LS-1000 cinema running with BW- 20 subs, MP-60 processor and SDA-2400 amps. In the same space we we have a Steinway IW-66 cinema running with LS Boundary Woofers and all the electronics. We feel this gives visitors a good insight into what the brands can deliver, covering a huge range of scenarios and price points."
With a space like this, industry partnerships are always a big part of the project. Charlie explains, "Install company Sinemas were instrumental in the build and design of the space, helping us with the install, build and then the interior design – using their panels in many of the spaces to lift the aesthetics and performance of the showroom.
"We also have Loewe TVs throughout, and a Kaleidescape movie server for content. HDA helped us with the cables along with the guys at FS Cables; the whole building is wired with their cables. Sony helped us with a projector, which was provided by AWE."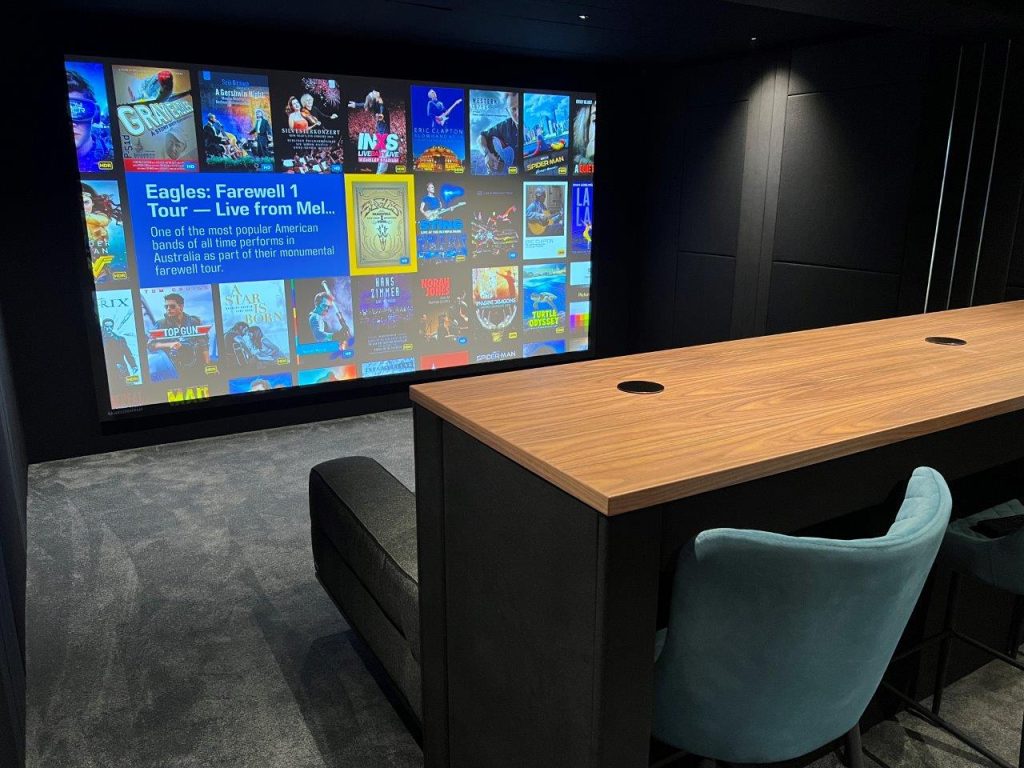 THE DEMO JOURNEY
The systems that visitors can experience are presented in a well-thought-out journey that allows each customer or installer to identify the most appropriate system. The space has lots of natural light which floods the interior, providing a pleasant setting in which it is easy to spend several hours in complete comfort.
The Lyngdorf Audio floor underlines the strong value available from this brand – the performance-to-price ratio is perhaps one of the strongest aspects of this brand and the team have done a good job allowing visitors to understand everything the manufacturer can offer in real world scenarios. Integrated around this part of the showroom is the planning space with a large table and large screen TV to look at detailed plans – either in print or up on the screen. For those customers who want to be involved with this type of planning or for installers to plan out their next project with the team, this is a practical and welcome addition to the space.
The next part of the tour moves to the mezzanine where the power of Steinway Lyngdorf is brought to the fore. In the first zone a comfortable swivel chair allows the visitors to sample some of the brand's most powerful two channel systems in turn, moving the seat into the sweet spot for demonstrations of the Model O, Model A, and Model B speakers. High-performance staging and imaging have always been a particular hallmark of this brand, and this aspect gets a particularly strong outing here. At the opposite end of this space, the mighty Model Ds get their chance to shine. Dominating their space physically, visitors get the chance to experience these powerful, open and precise speakers.
The final stop on this part of the tour is a home cinema scenario showcasing the compact Model S speakers. One of the brand's best sellers, this space underlines why, with impressive performance from these attractive compact speakers.
The home cinema is kept simple with a black interior and single sofa offering the chance to experience a Lyngdorf Audio and Steinway Lyngdorf cinema set up.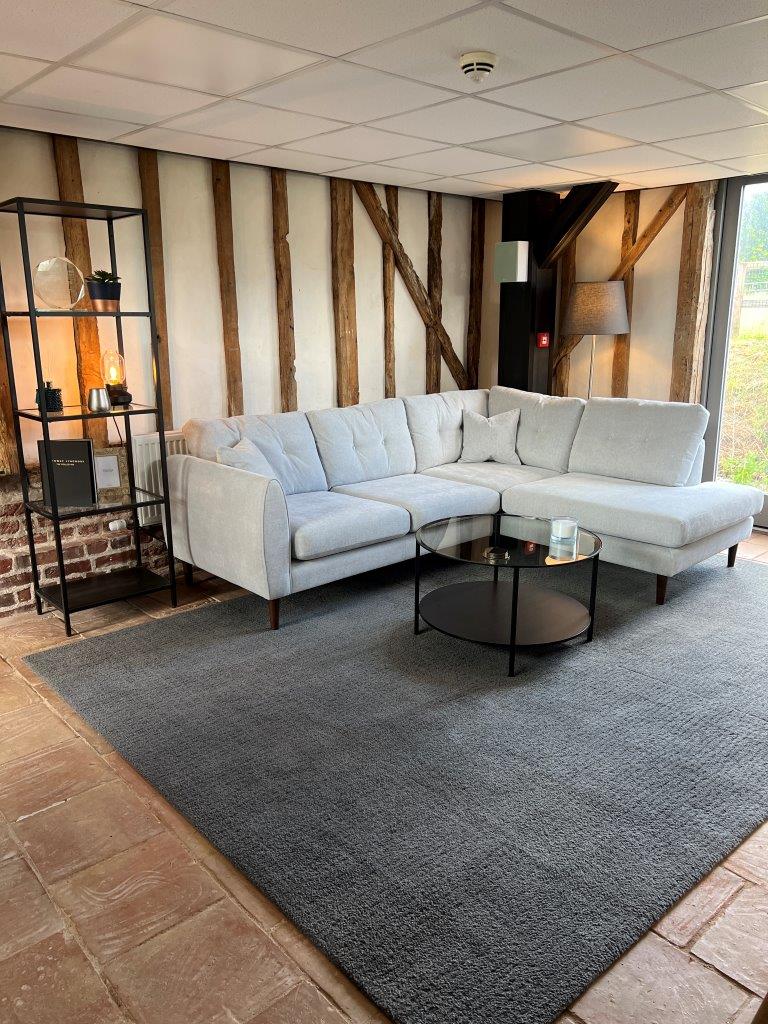 Charlie underlines the importance to the company of music in the home cinema sector. Unlocking the full potential of experiencing music concerts, or if required just listening to music, is a space the company feels has not been fully exploited, and an area in which both brands can shine. So, any visitor can expect demos to include a healthy helping of music performances.
Charlie enthuses, "We are keen to underline that both brands are fully immersed in their traditional audio roots, but offer thoroughly modern solutions that answer any customer needs, as well as fully embracing the digital delivery revolution. It really is a best of both worlds scenario."
Now the space is ready for visitors, what areas are the team most proud of?
Charlie says, "I think the cinemas are both amazing, especially for the price point they both hit! But for me I think the area upstairs with all the floor-standing speakers is next level; it's just something totally different for the industry that no one else has. It shows the industry and their clients what a proper stereo listening experience can be."
Simon adds, "I love the fact that the whole building works using our electronics as well, not just speakers. We are powering every system from both brands with all of our electronics, meaning we can sell full systems rather than just parts of systems. Both brands can provide the total package consumers want."
As for the business benefits to be gained from the project, Simon states, "I think the obvious benefit is for our dealers and the fact they can bring their clients over to such a special space and we can show them so many different systems and solutions; it is a real game-changer. We also want to use the space for training to help all our dealers get the best from every product we sell."
Charlie concludes, "We want the industry to know the space is ready to welcome them and their customers to experience what both of these fantastic brands can do. It's a wonderful setting to showcase some beautiful audio experiences that will bring customers huge enjoyment for many years, and we hope will either continue or begin a fulfilling journey with Lyngdorf Audio and Steinway Lyngdorf."
To arrange a visit email uk@steinwaylyngdorf.com