Brazil's most Iconic skyscraper is a showcase of smart home technology success for Flex Automation.
With over 3,000 Z-Wave technology zones across the 168-meter tall high-rise, Flex Automation considered interoperability, power, performance, and security in designing the technology systems.
Brazilian developer Porte Construtora tasked Brazil-based Z-Wave Alliance member Flex Automation to add residential automation technology to an extraordinary new multi-unit apartment building with a 270° view of the São Paulo skyline in Brazil. Dubbed Figueira Altos do Tatuape, this 50-floor project expands 168 meters into the skyline and is considered one of the tallest residential buildings in the city.
Flex Automation provides sustainable solutions and products geared to residential and commercial automation based on Z-Wave Wireless Technology. Flex Automation is a Brazilian company that innovated smart home category in South America by bringing Z-Wave Wireless technology to Brazil nearly 20 years ago. In addition to Z-Wave, Flex has products compatible with Wi-Fi, Bluetooth, and more, for the most diverse integrations that the automation market requires across 15 countries on 5 continents. With the know-how, local connection, and solutions to fit any project size Flex Auomation was the ideal partner for this local development project.
On track to complete in early 2022, the Figueira Altos do Tatuape complex features 50 apartments, gym, pool and entertainment areas. The building includes more than 3,000 zones across the 26,000 square/meters. Each apartment has been designed with a sprawling floor plan that includes a dining room, living room, terrace, kitchen, laundry room, bathroom, entrance hall, master suite, and large windows throughout. Designed and integrated by Flex and running on Z-Wave, each unit comes complete with smart home automation including automated lighting control, application controller shutters, full security, surveillance and access control systems, integrated heating and cooling systems, and a unique water heating system with solar support to meet 40% of the entire annual demand for hot water.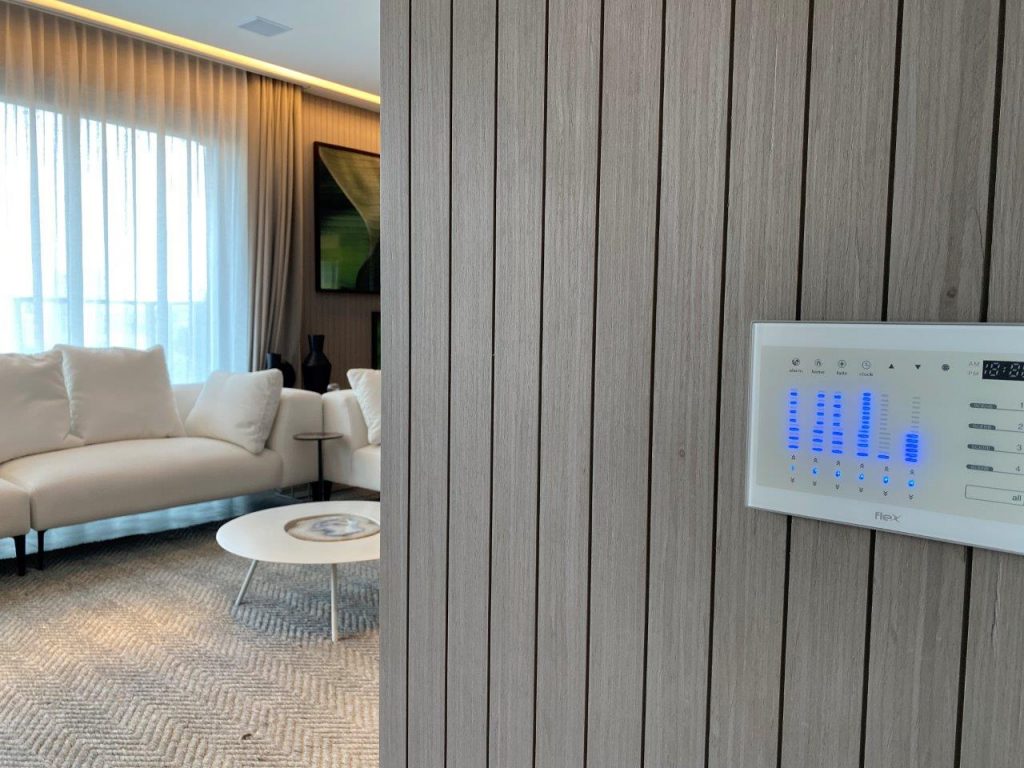 Partnership
Porte Construtora and Flex Automation have been longstanding partners over the last 13 years. In the early days of the relationship Flex introduced Porte to Z-Wave technology's benefits, and as result Flex had become the sole automation provider for all of Porte's residential and commercial projects. Figueira is among the most modern projects in São Paulo based on construction, embedded smart technology, and priority they have placed on harmony with the local environment. The sustainability considerations permeate this building anchored by the use of natural lighting provided by the gorgeous location.
"For us it is a reason for great joy and satisfaction to hand over the keys to this grandiose and audacious project, with modern and different concepts for the apartment's ambiance, valuing even more the Figueira's differentials, with the use of the best products of recognized quality brands. In addition, our architects were concerned about valuing even more the amplitude of the spaces, anchored in the natural lighting and in the external view to integrate the already generous environments of the original plant," says Igor Melro, president of Porte Engenharia.
Jean Pascal Nathan De Simone, Flex's CEO and Founder, provided details about his involvement in the project, the performance advantages that Z-Wave afforded the developers, and how it was completed to the satisfaction of all. "Porte had already been delivering high-end, fully automated apartments when we approached them for business," Jean Pascal explains. "But they were using exclusively wired solutions which required heavy and expensive hybrid infrastructure: the normal electrical cabling, suitable for conventional lighting, as well as an infrastructure for centralized wired home automation systems. With the only wireless solution available on the bid, we had to be 50 percent cheaper, simpler (90 percent cheaper infrastructure), retrofittable, and faster in deployment. Yet, we also had only six months to install a model with a whole system working for approval. We have always delivered the state-of-the-art solutions to Porte and kept a 24/7 support team to attend the thousands of homeowners. Our goal as an automation company needs to be a facilitator and an enabler, and to support homeowners through their journey."
Flex Automation approached Figueira with the idea to manage diverse, yet interoperable technologies by integrating different products that communicate on the low power, high battery-life Z-Wave standard including ELAN, Control4, Fibaro, Somfy RTS, and more.
Jean Pascal feels strongly that simplicity of use is key to user success with smart home systems. "What if people are not comfortable or have difficulties managing smart home apps? The pandemic has shown us how important touchless solutions are in people's lives. Apps are proving less important nowadays. That feeling of the never-ending digging to find what you need and the steps: removing masks, unlocking smartphone, opening the apps (hoping an update is not required), then finding rooms, browsing devices, it's not the experience people expect."
"We wanted to make the system as intuitive and user friendly as possible, so we designed Flex bridges with voice control support to offer that always listening feeling which provides an extra layer of convenience, simplicity, and performance for anyone in the home."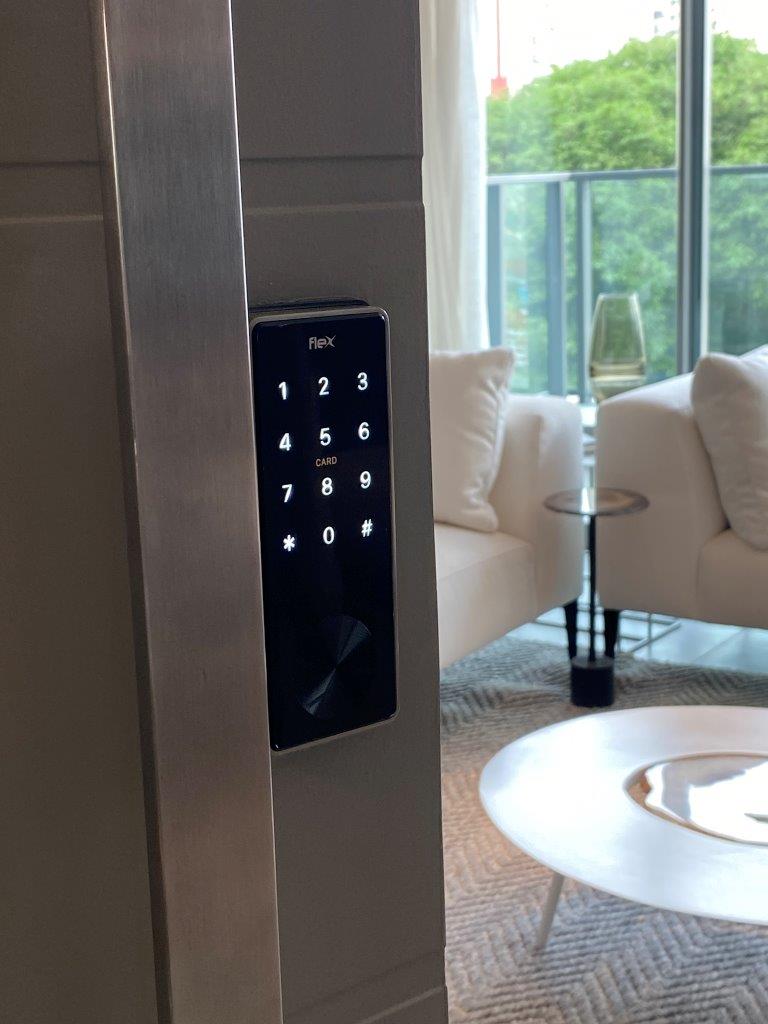 Functionality
Flex Bridges are enabled with Alexa-Ready Embedded Voice Control Support as well as Z-Wave so Figueira's customers can choose different platforms to control their homes. In deploying Z-Wave solutions for this project, Figueira Altos do Tatuape is now fully automated with over 3,000 Z-Wave devices the ecosystem includes smart lighting, climate, access control, shades, and entertainment. Each scene button can be programmed to control other devices like drapes or trigger scenes like 'Welcome' that activates whole-house lighting in a desired preset, turns off the alarm, sets air conditioning to 70 degrees Fahrenheit, open the shades at 47 percent, plays favourite music lists, and sends a push notification for anything in need of attention. The exclusive Flex Automation Z-Wave LG VRF Air Conditioning Interface controls temperature of each apartment's ten zones individually, and users can access their application via a mobile device, touchscreen, onscreen interface, remote and even voice control.
As further testament to the successful completion of this project, the firm is now ramping up and getting ready to install Porte's latest project, named 'Platina 220,' a landmark in Sao Paulo. It is the tallest triple-play building with 172m very exclusive hotel, offices, and apartments, fully automated with Flex. "We are now negotiating almost 2,000 new units, from small studios, offices to large penthouses," concludes Jean Pascal.