Brand handled in the UK by Invision look to have a strong ISE this year with some key launches and technology showcases.
Manufacturer of high-quality room acoustic products, Artnovion hasrecently announced a new patented technology called TDPA. This tech is incorporated in the Artnovion bass traps and Sub trap and allows treatment of frequencies as low as 40Hz with just one trap.
Artnovion will also be showing its Sub Trap – a new approach on low frequency control – a fine-tuneable device with high performance. The Sub Trap is a new category of acoustic treatment, targeting the sub-bass frequency range.
The maker claims it boasts the highest absorption coefficient per volume on the market and employs Artnovion's latest membrane technology – a symbiosis of precision engineering and material science – creating a device that can be precisely calibrated to work at the exact resonant frequency of a space. Check it out on Stand 7-N190.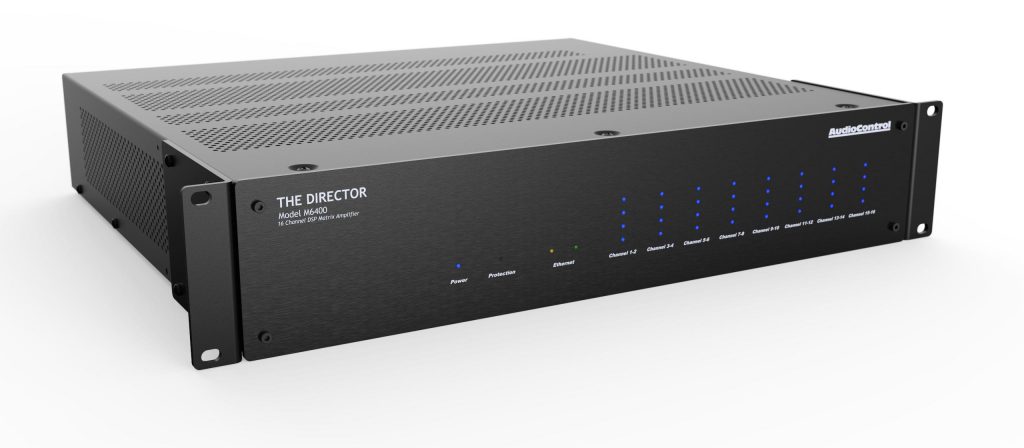 AudioControl
A key part of the AudioControl offering at ISE will be the Director M Series range. M Series feature on-board digital signal processing, graphic and parametric equalization by zone, network monitoring and programming, digital and analogue inputs, plus the addition of volume control, channel/zone grouping and zone audio presets.
They also allow individual channel and zone selection via standard TCP/IP, delivering incredible power and AudioControl's legendary audio performance. AudioControl has partnered with a growing number of prominent architectural loudspeaker manufacturers to implement speaker performance profiles directly accessible from The Director M Series onboard DSP.
Each speaker manufacturer has provided critical performance data to AudioControl, enabling tailored profiles to be created and stored in software form. Factoring in the individual room acoustics for each home, these speaker profiles achieve a useful step in providing the custom integrator the tools to deliver a premium entertainment experience by calibrating systems for their clients. Stand 5-R96 for this one.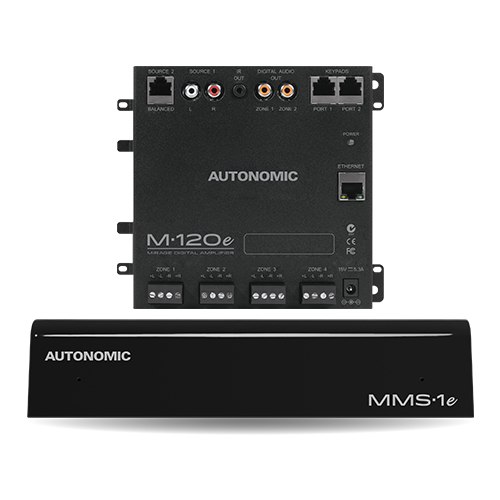 Autonomic
The MMS-1e music player represents a new entry level product for Autonomic that will broaden the opportunities for integrators to deliver Autonomic music solutions, particularly to those clients focused on enjoying streaming content throughout the home.
The MMS-1e can be leveraged as a low-cost single stream music player used as a standalone solution within a control system environment, or can be paired with an Autonomic eSeries amplifier, where its capacity doubles to provide two independent network streams of content.
That means that the MMS-1e paired with the M-120e amplifier will deliver a two-stream/four-zone premium entertainment package at an affordable price point. Autonomic will also be showcasing its new soundbar and subwoofer combination on Stand 5-X52.
LILIN
Security specialist, Lilin will be showing the company's new DeviceHub, which can manage IP cameras and NVRs via LILINHub App. LILIN Device Cloud stores recording status, on-line status, and operational status sent by LILIN DeviceHub.
If there is an issue for an IP camera, installers are able to perform remote reboot for that IP camera via LILIN Web Smart PoE switch. This is to make sure that devices are in operation.
Lilin will also focus on the new mini PTZ camera. The PZD6422EX3 is 1080P HD PTZ Dome IP Camera featuring 3X optical zoom capability. The high-speed dome is capable of streaming HD video at up to 30 frames per second. The unit also captures highlights and shadows simultaneously, eliminating pixilation and smear. See it all on Stand 9-E100.
Luxul
Luxul will be showcasing its new Apex Wave 2 technology access point the XAP-1610. The XAP-1610 offers support for more connected devices and increased data rates, delivering robut Wi-Fi performance.
It is compatible with all Luxul Wi-Fi Controllers and can be used standalone or as part of a multi access point deployment. Luxul will also have on show the new AMS-1816P managed switch which features the company's new Auto Recovery and Power scheduling functionality. Stand 1-Q120 for this one.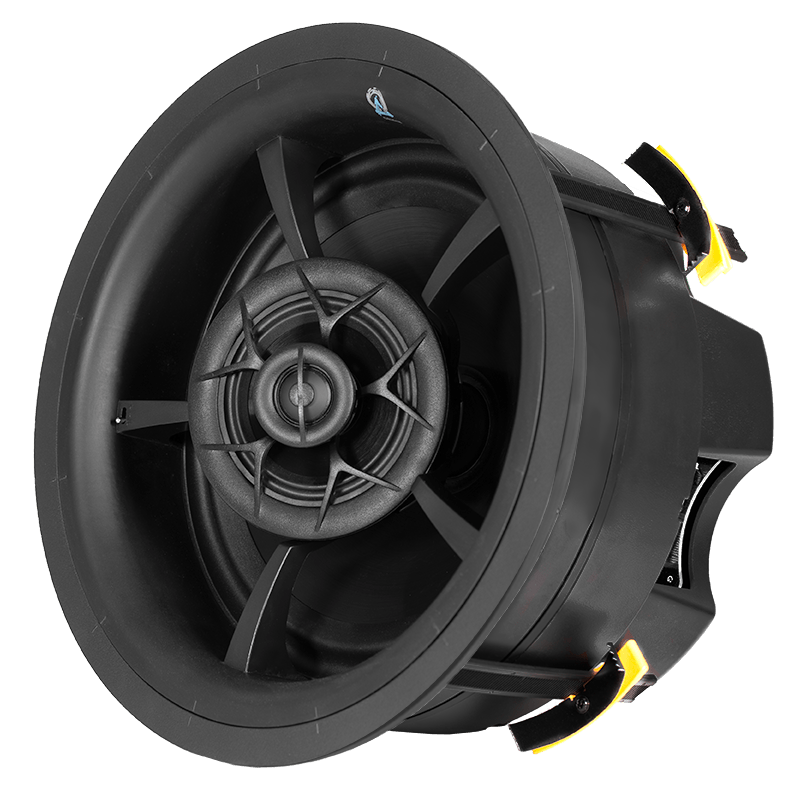 Origin Acoustics
Origin Acoustics' new architectural home theatre system, the Marquee Collection, has several models to address various configurations. The Marquee front channel LCR's boast a driver configuration with dual eight-inch woofers, dual five-inch midrange drivers and a single compression driver.
The drivers are mounted in a steel baffle attached to a sealed, extruded aluminium enclosure. The enclosure can mount in or on the wall depending on the homeowner's preference.
Outside the home, Origin goes to the garden with its Seasons Bollard loudspeaker.
The Bollard tackles the challenge of producing bass response from individual outdoor speakers in an attractive aesthetic.
Each Bollard has its own 6.5in sub in the base of each enclosure. Burying the small sub base in the ground, the larger portion of the enclosure is hidden from sight. The upper structure is a round enclosure design and houses the 4in mid/high frequency transducer eighteen inches above the ground. Get the lowdown on Stand 5-U90.
Procella Audio
The advent of large micro-LED displays paints a future where professional cinemas and home theatre enthusiasts use giant video walls instead of projectors and screens.
As exciting as these displays are for video quality and sheer immersion, they present a major challenge for producing high quality sound. These LED displays make proper speaker placement difficult, if not impossible, as there can be no behind-the-screen placement.
Procella Audio has responded to this conundrum with the C102 Above Screen loudspeaker. The Procella C102 is a powerful, high quality loudspeaker, placing the Left, Centre and Right channels above the screen and resolving several audio issues related to this configuration.
Procella will also show the recently created V21 Bass Engine. Producing 139 dB of continuous output and a peak output of 145 dB. Feel the bass on Stand 5-U80.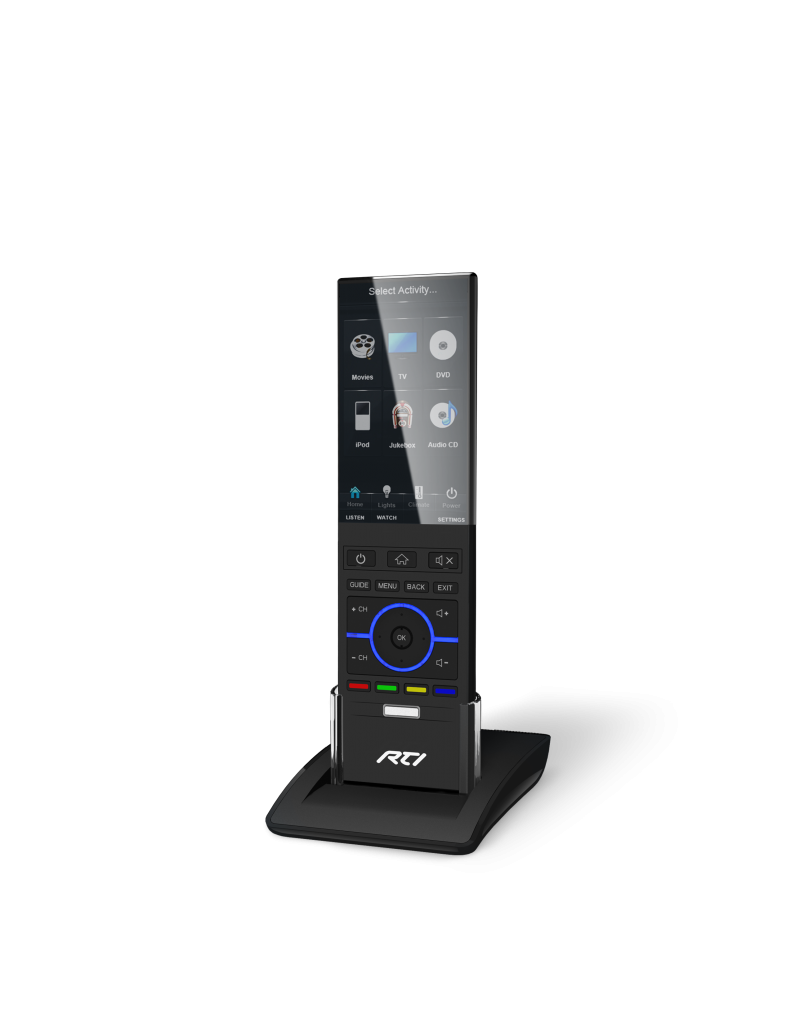 RTI
RTI will be showcasing the new T4x remote control, offering strong ergonomics, a high-resolution 4in capacitive touchscreen and fully programmable soft-touch buttons.
The T4x also has grip sensors, Wi-Fi and dual RF. Also on show will be the KA8 and KA11 touch panels designed for simple, intuitive control of the entertainment, environment and security systems in residential or commercial facilities.
These feature a fully customizable 8in or 11.6in widescreen high resolution LCD display with an integrated capacitive touchscreen. The touch panel is easily wall mounted or an accessory stand is available for table top installations.
The ambient light and proximity sensors automatically adjust the screen brightness and LED backlight according to the environmental light level. Built-in Ethernet with PoE and dual band Wi-Fi, enable two-way control and programming updates. See all the new products on Stand 1-N85.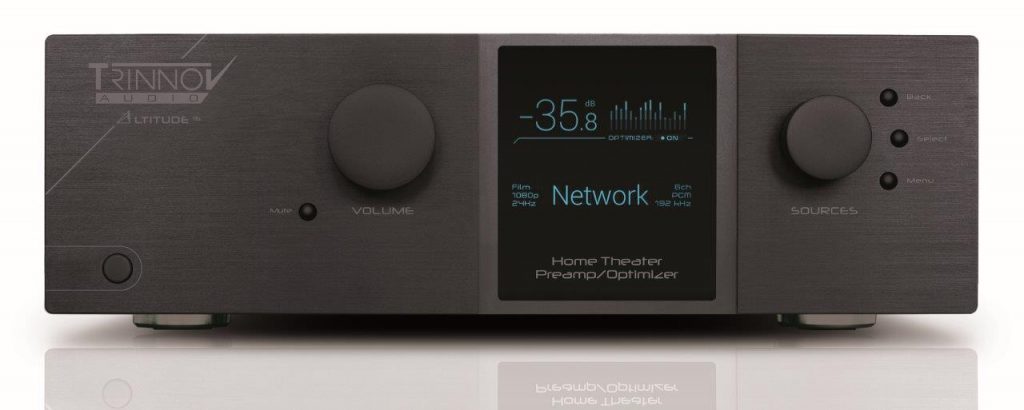 Trinnov
Trinnov's advanced 3D audio technologies and high-channel count capability successfully reconcile the conflicting speaker placement requirements of Dolby Atmos, Auro-3D, and DTS:X. Trinnov's Optimizer loudspeaker/room optimization technology solves the loudspeaker/room acoustic equation for high-end Hi-Fi and home cinema.
A key feature will be the award winning Altitude 16 and AMP8M amplifier offering 16 channels encoded together with up to 16 channels of amplification. Trinnov's other new offering is the Altitude48ext.
Based on the Trinnov Magnitude32, the Altitude48 ext provides 16 channels of AES/EBU input and up to 32 channels of analogue outputs, using the same state-of-the-art DACs used in the Altitude32.
This ensures strong coherence in the final rendering and brings the total potential channel count to 64 independently processed channels. In additional Trinnov will be part of a fully functioning cinema demonstration with Procella Audio, which is not to be missed. Base for Trinnov will be Stand 5-U80.
WyreStorm
WyreStorm will use ISE 2019 to showcase the latest evolution of its award-winning NetworkHD line with the now shipping zero latency ultimate quality 600 Series 4K HDR over 10GbE.
Representing the company's pinnacle of lossless AV over IP distribution for Pro AV and high-end residential applications, the 600 Series features HDCP 2.2 and all the bandwidth advantages of HDMI 2.0, with independent breakaway switching for matrixing functionality, audio embedding, de-embedding and down-mixing.
WyreStorm will also be highlighting a number of new products featuring the new Visually Lossless Compression including new extender sets and HDMI matrixes capable of displaying full HDR content. See it all on Stand 1-N100.