Integrating audio systems into a home or property doesn't have to be expensive or complicated to install. Systemline offers affordable multi and single-room audio solutions that are easy to fit, deliver top class audio and intuitive operation for use in full home renovations, housing developments, holiday homes, hotels, student accommodation and caravans, to name a few applications.
With several zero-clutter designs to suit any room – from the kitchen, bathroom, bedroom and living room, or across multiple rooms – Systemline's range of music systems feature discreet control panels conveniently built-into a wall or kitchen cabinet, with the speakers flush to the ceiling, seamlessly blending into any living space – the perfect case of hearing but not seeing.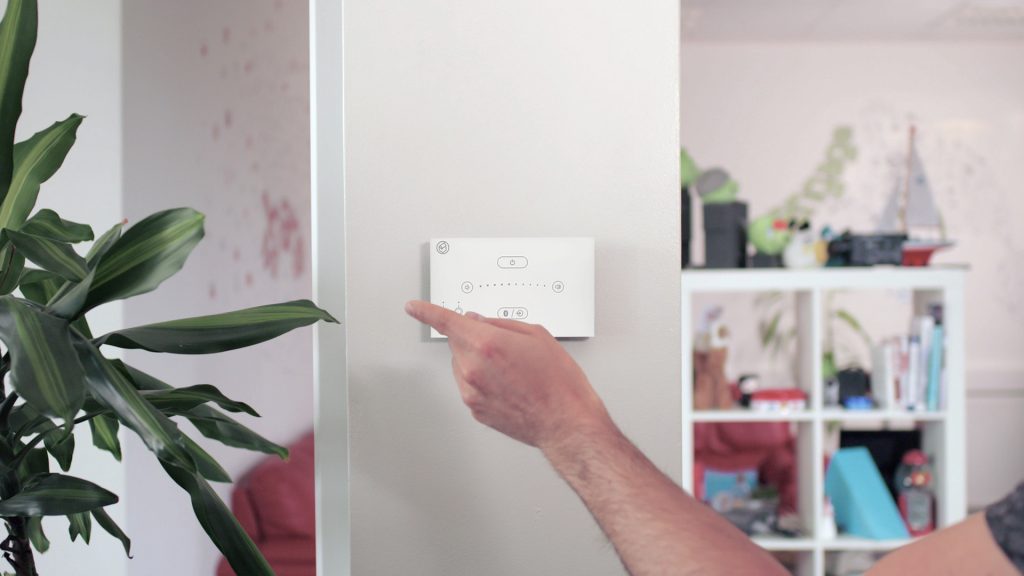 The Systemline range allows users to wirelessly stream music from a smartphone, tablet or laptop via Bluetooth or Wi-Fi. The series includes the Bluetooth-enabled E50 splash-proof model with gesture control, ideal for the bathrooms and kitchens, the water resistant E100 with on-board DAB/FM for fans of radio, while the more advanced, high-resolution supporting Systemline 7 boasts multi-room capabilities, controllable from an easy to navigate app. All models also allow connection to a TV to enhance the audio and experience of television and movie watching.
All systems arrive with everything you need to install quickly and easily: two in-ceiling speakers from the golden ears of renowned audio specialists Q Acoustics for superior stereo sound, and a pair of seven metre speaker cables from QED, designers of leading AV cables for more than 45 years.
Systemline E50 (from £275 with stereo speakers)
With its in-wall control unit boasting a splash-proof fascia and IP54-certified in-ceiling speakers, this versatile but affordable single-room audio system is perfect for kitchen and bathroom environments where humidity and the ingress of water is possible.
Ideally suited to its room environment, the E50 features not only sports touch sensitive controls but uniquely contactless hand gesture operation – essential in locations such as kitchens, bathrooms and beauty rooms where non-touch control is necessary.
The E50 also allows users to select Bluetooth room names such 'Kitchen', 'Bathroom' or 'Dining' or customise their own. A 3.5mm line input accessible from the front panel enables a direct wired connection of a mobile device, portable music player or laptop for example.
The E50 arrives in an elegant gloss white or stylish gloss black finish with an easy to wipe clean surface.
Systemline E100 (from £450 with stereo speakers)
Boasting a low-profile, water resistant in-wall unit, the E100 audio system features DAB radio broadcasts at the touch of a button and a bright OLED screen, alongside an attractive gloss black and stainless steel finish that will fit neatly into any interior design. Operation comes via touch sensitive controls.
The OLED display acts as a clock when in standby and informs the user of the currently selected radio station or source, while the built-in alarm and IP54 rating makes it perfect for installing in bedrooms and bathrooms as well as kitchens. Like the E50, its panel fascia is easy to wipe clean of any smears.
Systemline 7
The Systemline 7 is an advanced but simple to use multi-room music system, seamlessly integrated into every room in your property with absolutely zero clutter. It delivers stunning high resolution stereo sound throughout the home whether streaming from popular music, radio and podcast services such as Spotify, Tidal, Qobuz, Deezer, BBC iPlayer, TuneIn and Shoutcast or from a digitally stored hi-res music collection (playback up to 24bit/192Kz quality).
The free and easy to navigate integrated app (Android & iOS) allows easy one-touch control and selection of your favourite music from a compatible smartphone or tablet, while instantly listen to what you want, where you want with fitted wall controls. Play music in one room or across multiple zones (up to 24 fully independent music zones, including outdoors), set the maximum volume and sleep timers in individual rooms and the system's IP54 water resistant rating means you can install it into the bathroom and enjoy relaxing music while soaking in the bath.
The app also enables one touch integration of the whole house audio with a surround sound AV receiver and supports open integration of third party lighting and control systems including Crestron, Control 4, RTI, Fibaro and Lutron.
The Systemline E50 is available now with prices starting at £220.
E50 Black/White unit, 2x 7m speaker cables – £220
E50 Black/White unit with 2x in-ceiling QI65CB speakers, 2x 7m speaker cables – £275
E50 Black/White unit with 2x in-ceiling QI65CW bathroom speakers, 2x 7m speaker cables – £275
E50 Black/White unit with 4x in-ceiling QI65CB speakers, 2x 7m speaker cables – £335
The Systemline E100 is available now with prices starting at £395.
E100 unit – £395
E100 unit with 2x in-ceiling QI65CB speakers – £450
E100 unit with 2x in-ceiling QI65CW bathroom speakers – £450
E100 unit with 4x in-ceiling QI65CB speakers – £510