In this article our trade focused reviewer, Richard Stevenson, turns his attention to the Bowers & Wilkins (B&W) DB3D sub, can it cut the mustard?
The DB3D is a compact, premium subwoofer from B&W's flagship DB series. Entry-level is probably not the right description at just shy of £2000 retail, but this neat, 1000W/twin 8in driver sub is the smallest in the DB range. At just 360mm (h) x 320mm (w) and 300mm (d), the near cube shape is remarkably svelte and easy to hide in an install, if not carry. It tipped our scales at 25kg. Visual discretion is aided by a choice of black gloss, white gloss or rosenut veneer finishes, black or grey magnetic-fix grilles and a compact connection panel.
A pair of B&W's Aerofoil cone drivers are set in the side cheeks of the heavyweight MDF cabinet. The drivers can trace their provenance back to the 800 Diamond series loudspeakers, with the DB3D units being ported over from the 802 D3. The cone material is light, stiff and resists bending forces more effectively than conventional cones, delivering controlled bass with outstanding precision, says B&W. Each cone is driven by a massive motor magnet that contributes to a fair proportion of the sub's overall weight. Given that B&W's prestigious 802 D3 stereo floor-standers retail for £16,500 a pair, the DB3D sub is already starting to look very appealing at the price.
The 200mm drivers are mounted back to back and set up in balanced (rather than isobaric) configuration. This uses back pressure in the sealed cabinet to further damp driver excursion and massively reduce cabinet vibration. The momentum of one cone is cancelled out by the opposing movement of the other. From experience, the configuration also reduces the amount of sound that propagates physically through the sub's feet and into the floor, making it a good choice for rooms with suspended floors. Given B&W claims an outrageously low 10Hz for the DB3D, that might be very useful for installations with neighbours. The disadvantage of the configuration is that, without port loading to boost output, you need a lot of power to achieve high SPLs. To this end, B&W has incorporated a Hypex-based Class D amplifier boasting a generous 1000W of power, split between the two drivers. Unlike traditional subwoofer plate-amplifiers bolted to the rear of the cabinet, B&W has built the amplifier and control electronics into a separate aluminium sub-chassis. This forms a visual plinth to the main cabinet. Cooling fins run underneath, so any one of the three types of feet supplied (spikes, domes and taller rubber cones) will be required to keep the sub off of the floor and aid cooling.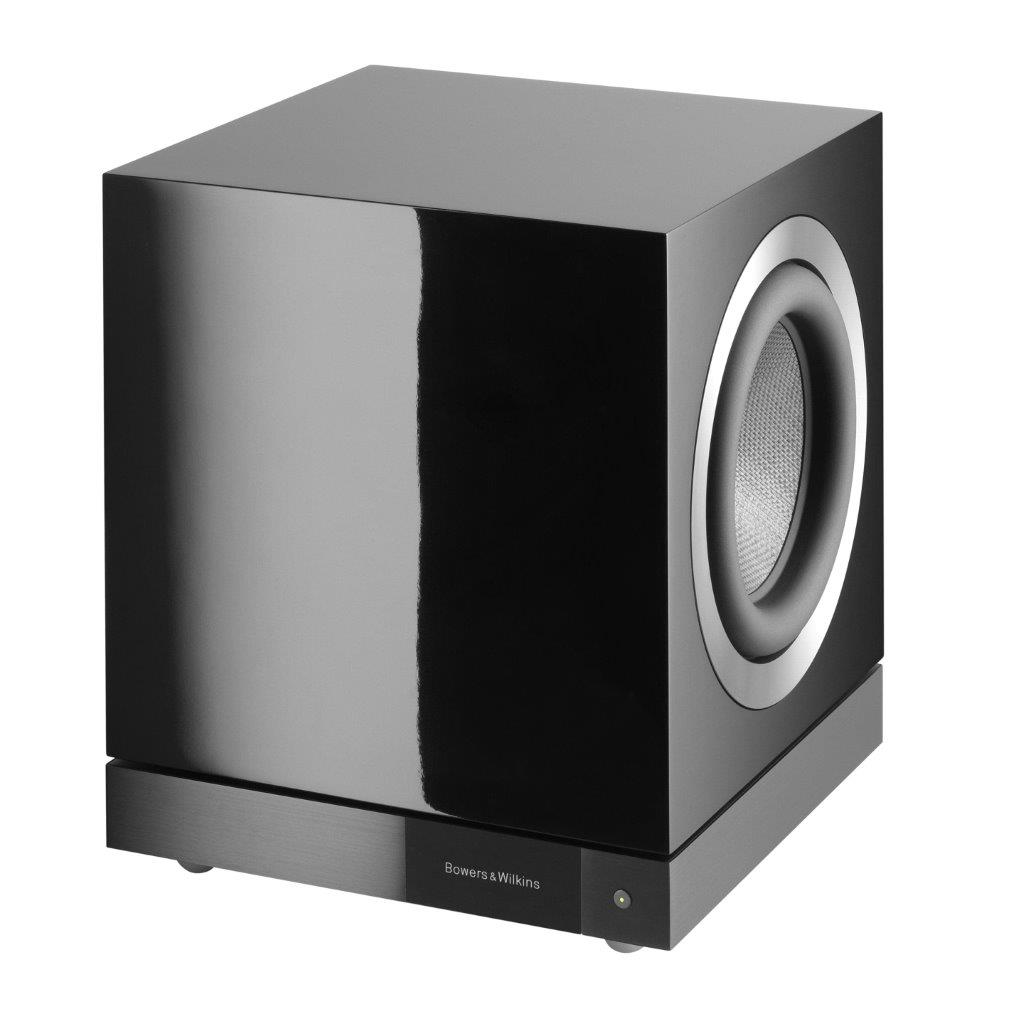 Installation and set-up
Dual side-radiating drivers should make the sub less sensitive to room placement, but it does require a similar amount of airspace either side for best performance. A mid wall position below a screen or angled at 45° in a corner both worked well in testing. B&W has kept the connection count 'lite' with just stereo RCA and stereo balanced XLR, albeit as independently selectable inputs. Any one of these four sockets will handle LFE from an AVR or processor.
For installation integration there are two 3.5mm 12V triggers and a nine-pin RS232 connector. The connections are low down on the rear panel allowing for very clean cable routing, although that would have been further enhanced had B&W recessed the terminal panel a little.
Without a single knob or switch on the connection panel, set up and fine tuning is left entirely to B&W's DB Subwoofers app. The sub connects to an Android or iOS smart device by Bluetooth, keeping it off the LAN.
The app is nicely designed, packed with information and offers a comprehensive set of controls. These span stereo/LFE operation, input gain, crossover frequency, four position phase and 12/24dB filter slope option. You can set-up specifically with any of B&W's own freestanding speakers from a drop-down menu or use the built-in curves for Music, Movie, Flat or Custom. The latter offers manually adjustable parametric EQ across five bands from 20Hz to 80Hz.
For more comprehensive room tuning, the app/ sub combination has its own Room EQ. This involves calibrating the microphone on the app's smart device by placing it close to the sub and running a calibration tone. There are options to EQ for a single seating position, a group of seats across the sofa or targeted generally throughout the room, the latter two requiring multi-position measurement. The EQ system proved very slick and accurate, comprehensively adding tautness and slam to the non-EQ sound
Performance
Completely belying its compact dimensions, the DB3D is a miniature powerhouse and plumbs depths of LF that no box of these dimensions has any right to. The performance is super-tight, very fast and carries a weighty punch with LFE and two-channel stereo music alike. In the latter, it is highly articulate and musical, and would prove an impressive add-on to in-walls / in-ceiling speakers for rooms that focus on music. For the majority of movie effects, the output is ample to achieve an even balance on LFE channel (@Dolby +10dB) comfortably up to 100dB in-room SPL from all channels driven with real-world movie material.
For larger rooms or customers that like to impress visitors with sheer bass impact, the DB3D may be found just a little wanting in absolute volume. We can vouch for the larger DB1D's room-filling potential in this scenario although, for complex rooms or where very small boxes are required to merge into the decor, a pair of DB3D's could be an even better bet.
The DB3D simply redefines what a small box subwoofer can offer in terms of performance, build quality and control, making its £1995 retail price look like a bargain. For installations requiring discreet components and premium audio performance, the DB3D is ideal.
This review first appeared in the pages of Essential Install Magazine. Subscribe here.