Biamp has announced its exclusive sponsorship as the official audio provider for the BattleBots Destruct-A-Thon live nightly robot fighting show at Caesars Entertainment Studios in Las Vegas, providing a premium audio experience for robotic combat fans just yards from the famed Las Vegas Strip.
The agreement provides the BattleBots arena with a variety of Community Loudspeakers, Amplified Loudspeaker Controllers (ALCs), rigging accessories, Desono Loudspeakers, and one TesiraFORTÉ AI digital signal processor. Installed throughout the studio, including in the BattleBox arena, the lobby, VIP lounge, and the BattleBots Store, the equipment creates an immersive audio experience to enhance the visual thrills of live robot combat, five shows a week.
"Biamp is amped to partner with the world's largest and only professional robot fighting sport in the world, providing an array of premium loudspeakers, amplifiers, and accessories that will engage fans in an immersive sensory environment unlike anything they could experience on TV screens," says Joe Andrulis, Executive Vice President of Corporate Development at Biamp.
"The opportunity to take BattleBots directly to our fans through a live stadium environment provides another avenue to experience the best in robot combat sports in one of the world's great cities, Las Vegas," says BattleBots Destruct-A-Thon General Manager, Keith Wright. "Biamp helps make the Destruct-A-Thon come to life, providing an unparalleled audio experience that heightens the excitement for fans of all ages."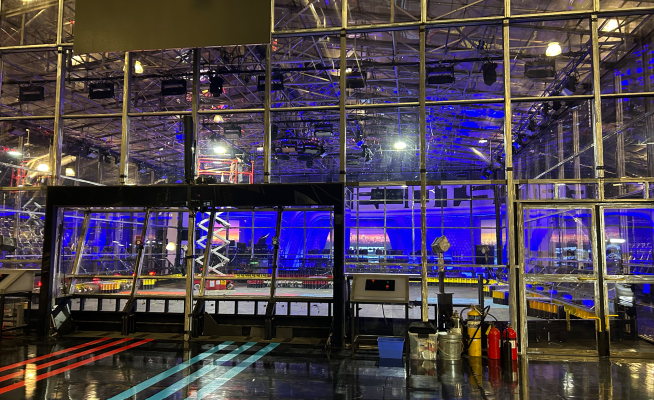 The arena features two dozen Community IV6 line array loudspeakers installed in the combat cage along with ALCs. The VIP area includes 10 Desono ENT212 column point source loudspeakers and associated amplifiers. Four Desono EX-S8 surface mount loudspeakers are installed inside the Store and another 16 are in the lobby. The gift shop area also includes two Community IV6 line array loudspeakers, four Community compact subwoofers, and ALCs. Local integrator PSX AV Las Vegas provided the audio installation and support services for the project.
The BattleBots Destruct-A-Thon show launched on 3 February and shows are held nightly, Thursday through Sunday.